News story
Royal Visitor undertakes a number of charitable events
HRH The Duchess of Gloucester arrived in Northern Ireland for a short round of engagements.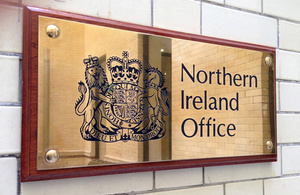 On arrival in Belfast she was greeted by Lord Lieutenant of the County Borough of Belfast Mrs Fionnuala Jay-O'Boyle CBE.
Her first engagement took her to Fleming Fulton School in Belfast. The school opened with a multi-disciplinary staff for 23 children with Cerebral Palsy in 1957 and was named in honour of Dr Fleming Fulton, pioneer of the School Medical Service (1923-1953). HRH has been Patron of the school since 1987.
The Royal visitor met with staff and pupils at the school and viewed a wide range of activities including Big Book, Story Stack, as well as art and storytelling. HRH was invited by the school principal, Mrs Manson, to officially open the refurbished library within the school. Before departing HRH was entertained to a small musical performance by the school choir.
HRH also attended a 'Hope for Youth' Black Tie Dinner at the Merchant Hotel. Hope for Youth was founded in 1972 and is a UK registered charity that helps children in Northern Ireland, particularly those from disadvantaged areas. The charity believes that the best hope for social cohesion and reconciliation in Northern Ireland is to support cross-community projects where young people can learn to work together to learn new skills, build friendships and develop confidence. Hope for Youth is multi-denominational, non-sectarian and non-political. HRH is Patron of the charity.
She also attended a short 'Hope for Youth' reception at Hillsborough Castle and met event sponsors, organisers and London Marathon runner, Vickie Caddy. Before departing she presented Grant Award cheques to a number of local voluntary groups.
Published 20 March 2015