Press release
Royal visitor for Belfast
Earlier today, HRH The Earl of Wessex arrived in Northern Ireland where he undertook a range of visits in the Greater Belfast area.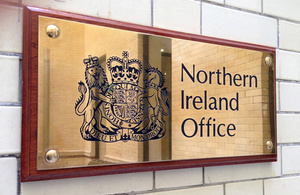 HRH made a stop at the Titanic Signature Project, Northern Ireland's world class visitor attraction which accommodates some 600,000 visitors per year from Northern Ireland and beyond. As well as commemorating Belfast as the home of the infamous Titanic, the exhibition pays homage to Belfast's shipbuilding and maritime heritage
The Royal visitor was given short overviews at a number of the Galleries by Titanic Tour guides, including Gallery One – Industrialisation of Belfast and Ship Building, Gallery Two – Drawing Offices and Arrol Gantry. HRH also boarded an aerial car for a ride through computer-generated imagery depicting life-size components of RMS Titanic under construction.
HRH also officially opened the newly built Strathearn School in East Belfast. Strathearn Grammar School is one of the top girls' grammar schools in Northern Ireland with a national reputation for academic success. It is locally renowned for music, sport and drama and in 2012 was named Sunday Times NI State Secondary School of the Year. The new school build was completed on 18 December 2014 at a cost in excess of £18m and provides pupils with a superb learning environment.
HRH toured the facilities of the new school, including the science department, the Art Room as well as the excellent sports hall and sporting facilities. He also met a number of pupils undertaking their Gold and Silver Awards.
The Royal visitor also made calls to the Duke of Edinburgh's Award biennial regional conference in Belfast, as well as attending an event at Belfast Royal Academy where he met volunteers and participants engaged in the wide range of DofE activities.
Published 25 February 2015