Royal visit to Spain begins
Their Royal Highnesses the Prince of Wales and Duchess of Cornwall begin three-day official visit to Spain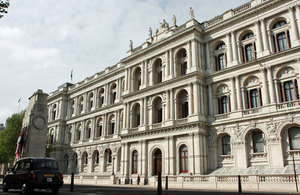 The Prince and Princess of Asturias are the official hosts
Stronger commercial ties between the UK and Spain are a key priority
Business leaders to discuss climate change and a low-carbon economy
Their Royal Highnesses will meet volunteers who help British nationals
Promotion of trade and investment between the UK and Spain is one of the top priorities for a three-day official visit to Spain by Their Royal Highnesses the Prince of Wales and the Duchess of Cornwall, which begins tomorrow (30 March).
Their Royal Highnesses will be hosted by The Prince and Princess of Asturias, and will attend a range of events in Madrid and Seville that will reinforce the commercial and military relationships between the two countries, as well as the strong cultural and historical links.
The visit will highlight the advantages of United Kingdom as a great place to invest for Spanish companies, the importance of building a low-carbon economy to tackle climate change, and the creation of opportunities for young entrepreneurs who will create the businesses of the future.
HM Ambassador to Spain, Giles Paxman, said: 'In these difficult economic times it is vital to increase trade and investment between the United Kingdom and Spain in order to create jobs and economic growth.
'The visit by the Prince of Wales and Duchess of Cornwall will reinforce the strong commercial ties that exist between our two countries, and will create opportunities for Spanish and British business leaders to look for further ways to expand their overseas operations and thus boost economic recovery.'
There will be receptions in Madrid and Seville at which His Royal Highness the Prince of Wales will meet major Spanish investors in the UK. The events will highlight the considerable scale, diversity and modernity of bilateral trade and investment, at a time when companies from both countries are looking to expand their overseas commercial operations in order to drive business growth. Companies such as Ferrovial, Iberdrola and Gamesa all have major investment plans in the UK.
His Royal Highness will meet top Spanish business leaders to discuss further ways to tackle climate change and to build a low-carbon economy, in which companies are switching to renewable energy and increasing the re-use and recycling of materials in order to reduce their environmental impact.
Their Royal Highnesses will take the opportunity to meet and thank representatives of the volunteer groups and organisations who help the very large population of British residents in Spain.
Ambassador Giles Paxman said: "There are many thousands of British and Spanish volunteers who give up their time to help British residents in Spain. The event with Their Royal Highnesses is well-deserved recognition of the work that volunteers do and the big difference they make to many people whose lives are greatly improved by their selfless generosity."
Published 29 March 2011