World news story
Royal Visit to Saudi Arabia Strengthens Bilateral Relations
The Prince of Wales and the Duchess of Cornwall visited Saudi Arabia as part of an official visit to the Middle East in March 2013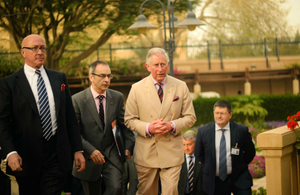 On his arrival to Riyadh, HRH Prince Charles' and his delegation attended a dinner hosted in his honor by Crown Prince Salman bin Abdulaziz - Deputy Premier and Minister of Defense. He was also given a tour of the Crown Prince's Al Auja (Dera'iya) Palace. The dinner was attended by many senior royals and senior Government officials.
Prince Charles, known for his passion for Islamic history, art and heritage, enjoyed a tour of the Wadi Hanifa and watched a presentation on the Dera'iya Project which is aimed at turning the historic Wadi into a tourist attraction. At the National Guards, HRH Prince Miteb bin Abdullah and HRH Prince Charles stressed the importance of co-operation between the two countries.
He attended a national dialogue session at the King Abdul Aziz Library, where his views on the importance of interfaith dialogue and the need for building bridges between civilizations were welcomed. He visited an exhibition of Princess Alice's photos which 'reflect the depth and strength of the Saudi British relations'. They also visited the Shura Council, and praised the appointment of female members describing it as a 'positive step towards participation in the decision making process'. The Duchess of Cornwall also visited the Princess Noura Bint Abdulrahman University in Riyadh.
Before departing Saudi Arabia from Jeddah, Prince Charles visited the media centre at Jeddah's new airport and viewed the project through live coverage of some construction sites. The new airport would boost airfreight and economic co-operation between the two countries.
At the OIC (Organization of Islamic Cooperation) Prince Charles saw one of the oldest copies of the Quran, praised the OIC poverty control effort. The visit signifies the close bilateral ties between UK and Saudi Arabia which are further strengthened by the close personal friendship that exists between their royal families.
Published 20 March 2013