News story
Royal Visit to Florence Court, Co Fermanagh
On the second engagement of the day, TRHs The Price of Wales and The Duchess of Cornwall visited one of Northern Ireland's most beautiful houses and gardens at Florence Court.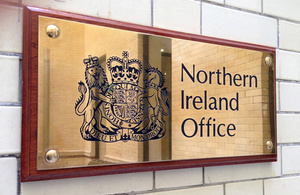 The Royal couple were met on arrival by Roy Bailie OBE, Regional Chairman of National Trust, Heather Thompson, Northern Ireland Director, National Trust and Jim Chestnutt, National Trust General Manager.
Florence Court consists of an 18th-century mansion, surrounded by gardens and parkland which extends to 250 acres, and is one of Fermanagh's most popular attractions, achieving a 4 star Northern Ireland Tourist Board Visitor Attraction rating in 2013. Formerly the home of the Earls of Enniskillen, Florence Court was gifted to the Trust by Michael, Viscount Cole in 1953 and, following a major fire in 1955, the house was restored in what is recognised as an exemplary conservation project for the time. The house is noted for its charm and intimacy, its fine rococo plasterwork and eighteenth century Irish furniture, and represents a fine example of a working Irish estate with much of its industrial heritage intact; further enhancing the story of a sustainable Irish estate.
TRHs were invited to tour the Pleasure Gardens and the Summer House where they met Alan Houston, Head Ranger and Gerry Cassidy, Gardener. They also had the opportunity to view the restored 1848 Sawmill and Waterwheel. The Royal party continued to make their way to the Kitchen Garden, where they met a number of National Trust volunteers.
Moving to the House, TRHs viewed some of the rooms which have been restored to a high standard and are now open to the general public during tours of the House and Garden. In an effort to increase the visitor experience at Florence Court, and bring further economic benefit to the area, the Royal Couple were briefed about a new partnership between the National Trust and the Forest Service which will result in the creation of a new Visitor Centre facility, which it is hoped will provide visitors with a seamless experience at Florence Court. TRHs were invited to view the proposed plans for the new Visitors' Centre.
TRHs took the opportunity to meet with a number of National Trust volunteers and Tourism and Community Partners who play a vital role in the running and upkeep of the National Trust visitor attractions in Co Fermanagh.
Before departure, the Royal Couple received a gift of a small cutting from the mother plant of the Irish Yew Tree which was discovered near Florence Court in 1767.
Published 1 April 2014