Royal recognition for Wootton Bassett
The title is in recognition of the dedication the town's inhabitants have shown in honouring members of the Armed Forces killed on operations…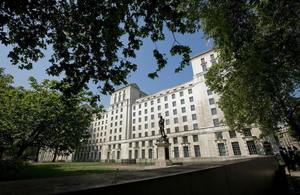 The title is in recognition of the dedication the town's inhabitants have shown in honouring members of the Armed Forces killed on operations in recent years.
Wootton Bassett is the first place in Britain to be so recognised in more than a century.
The renaming, agreed to by the Queen in response to a petition from the Prime Minister, was formally confirmed in a ceremony on Sunday 16 October 2011.
Receiving the Princess Royal were the Lord-Lieutenant of Wiltshire, Mr John Bush, and the town's mayor, Councillor Paul Heaphy. Also present were Prime Minister David Cameron and the new Secretary of State for Defence, Philip Hammond.
Presenting the town with the Letters Patent authorising the change in name, the Princess said:
This community has come together in the most extraordinary way.
I am privileged to be allowed to add my thanks to those of Her Majesty and the whole country for the example you set in respecting with dignity the losses that this country's operational responsibilities have forced upon us.
The Princess Royal took the stand as a Royal Air Force C-17 transport aircraft performed an honorary flypast before a minute's silence was observed:
Royal status is a privilege, yet it is received with sadness, mindful of the high price paid by our Armed Forces," said Councillor Heaphy.

This is not a day for celebration but one for commemoration, one of recognition, and one to mark the beginning of a new chapter for our town. We did not ask for recognition and we find the attention rather humbling.
The tradition of lining the streets to show respect for the fallen began in 2007 when Percy Miles, then the town's mayor, decided to stand in silence in his mayoral robes when the first two bodies to be repatriated through RAF Lyneham, those of Rifleman Aaron Lincoln, aged 18, and Kingsman Danny Wilson, 28, who were both killed in Basra, Iraq, passed through the town.
The town has borne witness to a total of 167 repatriation ceremonies since then. The last repatriation in the town, that of Lieutenant Daniel Clack of 1st Battalion The Rifles, took place on 18 August 2011, before all RAF transport operations, including repatriations, were transferred to RAF Brize Norton in Oxfordshire.
To mark its new status, Royal Wootton Bassett now has a new coat of arms with a royal lion replacing one of the three lozenges of the original arms. The town has also adopted the new motto 'We honour those who serve'.
Jane Whitehouse, mother of Corporal Jonathan Horne whose body was repatriated from Afghanistan in 2009, said:
It is so right that Royal Wootton Bassett is getting this recognition. It was very poignant, the way they honoured my son.
Published 17 October 2011