Royal opening for new Junior Ranks mess
His Royal Highness Prince Harry has officially opened the new £5m Meiktila mess at RAF Honington during his first visit there as Honorary Air Commandant.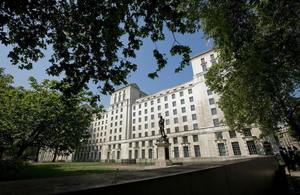 The mess - named Meiktila Mess after a wartime battle in Burma - was built by Defence Estates and industry partner Mansells to offer improved dining for junior ranks stationed at RAF Honington.
Prince Harry was greeted by Station Commander Group Captain Nick Bray, before meeting with service personnel and unveiling a plaque commemorating the official opening of the Meiktila Mess.
Group Captain Bray said:
It was exciting for everybody, a huge shot in the arm for people's morale. We were very interested to meet him and benefitted immensely from his enthusiasm and good humour.
The Meiktila Mess - which can feed up to 1200 hungry Service personnel over the course of a mealtime - has a large dining hall split into two, with each area able to seat 250 people at a time.
It also includes adaptations providing disabled access facilities for personnel undergoing treatment at the Station's Regional Rehabilitation Unit.
The Mess was handed over to Squadron Leader Marc Colpus (Officer Commanding Catering Squadron) in March 2010.
Speaking at the time of the handover, Squadron Leader Colpus said:
The ultimate customers of this new facility, the Junior Ranks, have been mightily impressed by the improvement in their dining experience over the three meals during the day; the initial feedback has been positively glowing.
The new mess replaced a building originally built in 1936 during the lead up to the Second World War, which had been used by generations of RAF personnel and the United States Army Air Force.
RAF Honington is home to 1, 2 and 15 Squadrons RAF Regiment, the Joint Chemical Biological Radiological Nuclear Regiment, the Force Protection Centre, RAF Training Wing and the Force Protection HQ. 2 Squadron RAF Regiment is currently carrying out Force Protection duties at Kandahar Air Base in Afghanistan.
Published 27 July 2010