Royal Navy survey ship departs on Gulf deployment
HMS Enterprise has sailed from Falmouth in Cornwall to the Middle East for nine months on operations.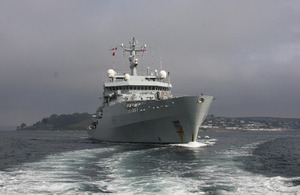 The survey ship will be protecting the nation's interests and contributing to the safety of military and civilian shipping while deployed.
While the ship's primary tasking is military data-gathering she will also act as a deterrent to illegal activity by increasing security and preventing conflict.
The ship sailed from Falmouth with a brand new survey motor boat called 'Spitfire'. This nine-metre boat effectively doubles the mother ship's ability to collect data.
The ship has been in Falmouth for the past month while work has been conducted on the davit used to lift the new motor boat in and out of the water.
Lieutenant Francis Griffiths, one of the ship's engineer officers, described the effort required to update the davit:
After a lot of hard work from the ship's engineering department and contractor support it was really great to see the survey motor boat successfully hoisted on board so we could deploy to warmer climes.
The military data-gathering conducted will help to eliminate 'no-go areas' for British and allied warships, but crucially will also be used to update badly-needed charts so all mariners can navigate the area safely.
While away, Enterprise will also take part in multinational exercises promoting partnerships with other countries in the region through working together towards common goals.
HMS Enterprise is an Echo Class survey vessel based in Plymouth which was launched in 2003 (HMS Echo is also Plymouth-based and has recently returned after a long deployment).
The ship operates a watch-rotation system and has a crew of 75 men and women, with 50 on board at any one time. The watches are changed while the ship is still deployed, giving the crews a set time of duty and leave.
The Echo Class is designed primarily for military data-gathering, principally with the use of multibeam sonar, providing Defence with a rapidly deployable, organic, military data-gathering capability for the collation of geospatial information.
Published 12 September 2012