Royal Navy rescues Cornish fishermen
A Royal Navy Search and Rescue Squadron airlifted five Newlyn fishermen from their sinking vessel to safety last week.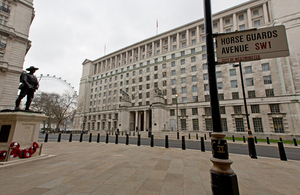 The crew of 15-metre gill-netter 'Ben My Chree' (meaning 'girl of my heart' in the Manx language) asked for assistance just after midnight, prompting an air and sea rescue co-ordinated by Falmouth Coastguard.
The vessel started taking on water some 17 miles (27km) north east of the Isles of Scilly.
Members of 771 Naval Air Squadron, based at Royal Naval Air Station Culdrose in Cornwall, were scrambled to the sinking fishing boat at 0030hrs. The duty crew quickly got airborne and arrived on scene to find the boat struggling in quite dangerous sea conditions.
Initially, the Sea King helicopter crew tried to winch down a pump to take water off the boat. However, due to very difficult sea conditions and the fact that the boat was taking on more water, the crew quickly made the decision to get the fishermen off the boat.
Chief Petty Officer Jason Bibby, the aircrewman onboard the rescue helicopter, was winched down on a hi-line, and, together, the helicopter and St Mary's lifeboat crews managed to get the men off their sinking vessel and airlift them to safety.
The rescue helicopter pilot, Lieutenant Commander Jerry Barnbrook, said:
We managed to get to the scene very quickly. Initially we wanted to help the crew to save the boat by winching down a pump to take off the water. However the boat was quickly going under, so a quick decision had to be made to evacuate the crew onboard.

It was quite a challenging rescue because the boat was moving around a lot; although it was good weather, the swell was causing dangerous sea conditions.
Falmouth Coastguard spokesman Terry Collins praised the rescued fishermen:
It was a very frightening situation," he said. "They had no idea if the vessel was going to stay afloat or just sink underneath them. They were very calm, very collected. The skipper gave every bit of information we required to help with a very prompt rescue.
The duty crew onboard Rescue 193, from 771 Naval Air Squadron, were Lieutenant Commander Simon Daw (aircraft commander and observer), Lieutenant Commander Jerry Barnbrook (pilot 1), Lieutenant Paul 'Chalky' White (pilot 2), and aircrewman Chief Petty Officer Jason Bibby.