Royal Navy Merlins fly to the Med
A Royal Navy helicopter squadron is taking part in NATO's largest Mediterranean anti-submarine exercise, Proud Manta, for the first time.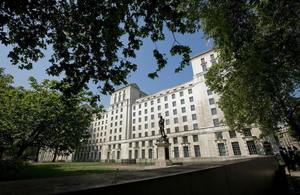 Merlin Mk1 maritime patrol helicopters from 814 Naval Air Squadron (also known as 'The Flying Tigers') have flown 1,400 miles (2,250km) across Europe from Royal Naval Air Station Culdrose in Helston, Cornwall, to Sicily in order to take part in the exercise and practise hunting submarines.
Run by NATO, Exercise Proud Manta (formally Noble Manta) sees ships, aircraft and submarines from the USA, Canada, Spain, France, Germany, Greece and Turkey, plus hosts Italy, converging on the central Mediterranean for a week.
The exercise provides a realistic, challenging training environment for all participants in order to improve the readiness, proficiency and tactical skills of all the units taking part. It gives the Merlin crews an excellent opportunity to practise their primary role of anti-submarine warfare as they operate against a wide variety of exercise 'adversaries' not normally encountered in British waters.
814 Naval Air Squadron (NAS) personnel, including aircrew and engineers, will be hosted by the US Navy at Naval Air Station Sigonella in eastern Sicily for the duration of the exercise.
The Commanding Officer of 814 NAS, Commander Darran Goldsmith, said:
Proud Manta will provide the opportunity for 814 to hone its anti-submarine warfare skills whilst working closely with other NATO maritime air, surface and sub-surface forces.

Additionally, for the aircrew new to the front line, the transit to and from Sicily will offer excellent navigation training and experience. Interaction with our Italian Merlin counterparts in terms of engineering practices and flying procedures is a most welcome bonus in an exercise which promises much in a concentrated period of focused tactical activity.
Published 7 February 2011