World news story
Royal Navy Frigate HMS Portland visits Dar es Salaam
The British Royal Navy frigate HMS Portland arrived in Dar es Salaam on Tuesday (20 September 2016) at the start of a four-day visit.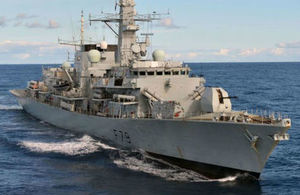 HMS Portland forms part of Combined Taskforce 150, in which warships from nations including the UK, France, Canada, Germany, Pakistan, Australia, Denmark and the United States are working to fight global terrorism, stop trafficking and bring greater security to the Indian Ocean region. CTF 150 Commander, Commodore Guy Robinson visited Tanzania earlier this year.
The United Kingdom has a particularly close partnership with Tanzania on countering narcotics trafficking. As a result of UK-Tanzania co-operation two drug smugglers were jailed last month for a total of 42 years in the UK, following a £500m cocaine seizure off the coast of Scotland. In 2014 UK support helped ensure the largest ever drugs seizure in Tanzanian waters.
During it's time in port, the crew of HMS Portland will provide maritime training to Tanzanian law enforcement agencies to enhance their ability to stop drug smuggling in Tanzanian territorial waters.
British Deputy High Commissioner Matt Sutherland said:
There can be few more obvious symbols of our desire to further strengthen our relationship with Tanzania than the presence of a Royal Navy ship in Dar es Salaam port. Organised crime does not respect national borders. It is only by working together that we can tackle shared threats. I am delighted to welcome HMS Portland, its Captain and crew to Tanzania, and look forward to supporting their visit in the coming days.
Published 30 September 2016