News story
Royal Navy duo in multinational anti-sub exercise
HMS Westminster and a Trafalgar Class submarine led the Royal Navy's involvement in Exercise Arabian Shark, a test of coalition navies to deal with submarines in the Gulf of Oman.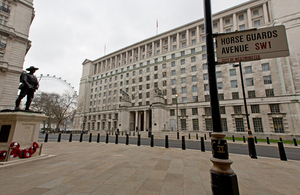 The British duo joined warships from the USA, Saudi Arabia and Pakistan - including an old Royal Navy favourite - for the war games in the Gulf of Oman.
In the seemingly ever-present haze of the Gulf region, a Trafalgar Class submarine (T-boat) and an approximate American counterpart, USS Pittsburgh, led a seven-strong naval task group as the exercise drew to a close.
Exercise Arabian Shark 2012 is the latest in a regular series of anti-submarine exercises held in the Middle East region for the past decade.
As well as the T-boat and the US Los Angeles Class nuclear submarine, the Royal Navy committed frigate HMS Westminster to Arabian Shark, the Americans provided destroyer USS Sterett, the Saudis corvettes Hitteen and Badr, and, from Pakistan, a blast from the past for the Royal Navy participants: PNS Badr - perhaps better known as the former Type 21 frigate HMS Alacrity.
For Westminster, roughly halfway through her east of Suez deployment, Arabian Shark was a chance for her to get back to her raison d'etre - fresh from counter-piracy operations and the success of a £14m drugs bust.
The Portsmouth-based 'capital ship' and her twelve Type 23 frigate sisters were designed in the late 1980s to hunt Soviet submarines in the North Atlantic.
Since then the world has changed, as has the technology: Westminster has the best submarine-hunting helicopter in the world, an 829 Naval Air Squadron Merlin, and the world's best submarine-detection equipment in the form of the Sonar 2087 towed array system.
So, during the exercise, the submarines tried to hunt and 'kill' the warships, and the surface forces did likewise with the submarines.
The main aims of the exercise were to strengthen military relationships and improve the war-fighting techniques of all the navies involved.
Lieutenant Thom Hobbs, Westminster's Principal Warfare Officer (Underwater), said:
Arabian Shark was a significant international exercise allowing for the strong bonds between the participating nations to be reinforced.
We are working together to ensure security and stability at sea.
The exercise was hailed a resounding success, with all of the units involved gaining valuable training with a variety of other nations' units in a strategically important area of the world.
With Arabian Shark concluded, the Royal Navy T-boat and USS Pittsburgh made a rare appearance on the surface of a wonderfully-calm Arabian Sea for the ever-popular task group photograph.
HMS Westminster has now resumed her wider maritime security role in the Indian Ocean. Since leaving Portsmouth in January, she has mostly been employed as part of the 25-nation Combined Maritime Forces counter-piracy task force, disrupting pirate activity and making the region safer for the merchant shipping that passes through it.
Westminster is due back in the Solent in August 2012.
Published 8 May 2012