Royal Navy displays its wide-ranging abilities
The full gamut of the Royal Navy's abilities were on show in the Solent last week, during a series of high-profile action-packed demonstrations.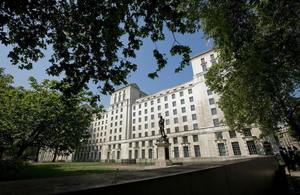 Around 1,000 sailors and Royal Marines from across the Naval Service took part in the Maritime Combat Power Visit, showing what the Royal Navy does, to more than 300 students from the advance command and staff at the Forces' college at Shrivenham, plus senior officers, academics, the media, MPs, affiliates and other interested parties.
The four-day Maritime Combat Power Visit - formally known as the Staff College Sea Days - is aimed at demonstrating what the RN can do, and indeed does, around the globe.
After a day of rehearsals on Monday, the demonstrations kicked off in earnest on Tuesday, concluding on Thursday, all choreographed by the Navy's training organisation, FOST.
The Commando Helicopter Force, also known as the 'Junglies', and Fleet Protection Group Royal Marines staged a mock boarding, leaping from a Sea King helicopter and roping onto HMS Bulwark's deck to show how they can take down pirates/terrorists.
RFA Black Rover demonstrated the tricky art of replenishing at sea, while HMS Sutherland showed how to deal with the threat of submarines, and HMS Bulwark showed how the Navy can put men and material onto hostile shores by sending her embarked Royal Marines and their kit onto Browndown Beach in Gosport, Hampshire.
Demonstrating the Navy's abilities at this year's event were:
flagship HMS Bulwark
landing support ship RFA Mounts Bay
Type 23 frigate HMS Sutherland
tanker RFA Black Rover
patrol boat HMS Raider
Sea King helicopters from 846 Naval Air Squadron
Commando Lynx from 847 NAS
Lynx helicopters from 815 NAS
surveillance Sea Kings from 849 NAS
Hawk jets
green berets from the Fleet Protection Group Royal Marines, and
the amphibious skills of 539 Assault Squadron RM.
Published 28 October 2011