Royal Naval medics train for Helmand
Royal Naval medical personnel have recently been undertaking training in North Devon for their upcoming deployment to Afghanistan.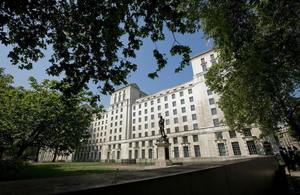 In contrast to the heat and terrain they will be coping with in Afghanistan, more than 200 medics endured freezing wind and rain at the Royal Marines Base Chivenor.
Members of the Close Support Medical Regiment, taken from Royal Naval and Army units countrywide, have been training for six months to provide battlefield medical support to the troops deploying on the ground in Afghanistan.
The training includes the use of amputee actors who simulate battlefield casualties for added realism, and the support of members of the Royal Marines Band Service who act as ambulance drivers and casualty handlers.
Most of those being trained are Royal Naval Able and Leading Medical Assistants who might be more used to working on ships or in hospitals, but are likely to end up working under fire in the same conditions during which Able Medical Assistant Kate Nesbitt, now of the Ministry of Defence Hospital Unit (MDHU) Derriford in Plymouth, earned her Military Cross.
Lieutenant Commander Mark Middleton, Officer Commanding A Squadron, said:
The medics are coming to the culmination of six months training in order to give support to the combat troops in Afghanistan.

They will be going out on patrol on the front line in the arduous and dangerous conditions where they may have to defend themselves and their patients from the Taliban.
Their training has included learning basic infantry as well as medical skills and it is now peaking with them putting it all together. They have been practising their existing trauma skills in a stressful environment where we make it as realistic as possible. The final test will lead the validation of their skills.

Ultimately their presence will give the combat troops the confidence to do their job properly, knowing they will be looked after by skilled medics. In turn, the troops will look after the medics and ensure they are safe.
The drills on the training included trauma care, paediatric life-support, and primary healthcare such as drawing up health plans for troops to maintain a healthy and fit fighting force.
One of those under training for her first deployment overseas is Able Medical Assistant Morwenna Nichols who is also based at MDHU Derriford. She was covered in mud from crawling along the ground encumbered by her rifle and trying to communicate with her colleagues and the 'casualty' over the roar of a Chinook helicopter carrying a Medical Emergency Response Team.
Despite these challenges, she was able to provide the appropriate medical support to the casualty. She said:
I am looking forward to going to Afghanistan because this is exactly what we have trained for as a Medical Assistant. There is only so much you can learn in a hospital so I am keen to go to use my full skills, but I know it will be tough.
The units involved include Royal Naval Air Station Yeovilton, Commando Training Centre, Lympstone, Portsmouth and Devonport Naval Bases, 42 and 29 Commando units in Plymouth and 45 Commando in Arbroath, and Queen Elizabeth Hospital and the Royal Centre for Defence Medicine at Selly Oak in Birmingham.
Published 27 January 2011