Royal Marines train for beach assault missions
Contrary to appearances the south coast is not being invaded, rather the Royal Marines landing craft training school has been conducting an action-packed beach assault exercise in Plymouth this week.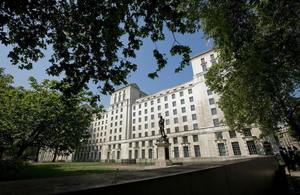 The challenging and dramatic exercise has been designed to test new Royal Marines coxswains training to qualify for front line squadrons on Royal Navy warships.
The culmination of this extensive 14-week course is run by 10 Squadron of the Royal Marines Landing Craft Specialisation Training School.
On the exercise students operate in a variety of about ten craft, ranging from small inflatable boats to large craft.
Future landing craft handlers are tested on their skills in river patrolling, tactical reconnaissance, navigation and casualty evacuation as well as craft-handling at speed.
Major Jim Fuller RM, Officer Commanding 10 Landing Craft Training Squadron, was pleased with the results:
It was a big success," he said. "Everything went according to plan.
Training for Royal Marines landing craftsmen is overseen by 1 Assault Group Royal Marines (1 AGRM), based at HM Naval Base Devonport, Plymouth.
The Group is Britain's lead for amphibious warfare and Royal Navy board and search training, and therefore ensures operational capability.
To support operations 1 AGRM provides specialist advice or augmentation teams required for operations or exercises anywhere in the world; it also advises and trains personnel from foreign nations on behalf of the Foreign and Commonwealth Office.
Published 8 April 2011