Royal Marines Reserves guard Edinburgh Castle
Members of the Royal Marines Reserves Scotland have formed the Guard at Edinburgh Castle for the first time.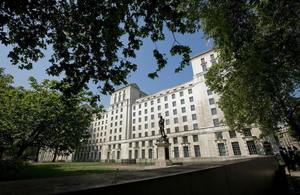 Restructuring of the Army several years ago means they no longer provide the Guard, except on special occasions, and this was the first time the Royal Marines Reserves (RMR) have had the honour of being allowed to perform this function.
The occasion was to mark the amalgamation of two RMR units - Scotland and Tyne - and the relocation of the new unit's headquarters to the Edinburgh area from Govan in Glasgow. It was also in celebration of the 348th birthday of the Royal Marines Corps.
Commanding Officer of the new RMR Scotland, Lieutenant Colonel Graeme Fraser, said:
It has been a huge honour for RMR Scotland to mount the ceremonial guard at Edinburgh Castle for the first time and for the officers and senior NCOs [non-commissioned officers] to dine together later in the Great Hall.
Access to the castle has added an extra dimension to a very significant weekend in our history which has marked the amalgamation of RMR Scotland and RMR Tyne and the move of the headquarters to Edinburgh, in addition to celebrating the 348th Royal Marines Corps' birthday.
The RMR are civilians who have earned the coveted Green Beret, and many of them have deployed to places like Iraq and Afghanistan and served on the front line.
Lieutenant Colonel Fraser added:
The marine reservists from all detachments are now able to train together in greater numbers and are enjoying sharing experiences with colleagues drawn from Scotland, Northern Ireland and the North East of England.

The move of the HQ to Edinburgh has reinforced the long standing RMR presence in the city, which also has a detachment based in Colinton.
Part of the wider reorganisation of the RMR across the UK, RMR Scotland has taken the opportunity to relocate the HQ to the capital which brings a range of advantages in operating an efficient HQ.

The HQ is now located directly next to the naval supporting staff in Scotland and is now closer to the key civilian authorities we regularly liaise with. RMR Scotland is recruiting now and will be holding recruit selection weekends at the end of October and in February 2013.
The day began with a full inspection of the Guard by Captain Andy Goldsmith, who has recently returned from a deployment to Afghanistan.
The Guard were then marched out onto the esplanade and the first pair assumed their duty, while another duo conducted a similar duty outside the Scottish National War Memorial in Crown Square, at the top of the Castle.
Later, the officers and senior NCOs of the newly-merged unit, as well as guests including Transport and Veterans Minister Keith Brown - himself a former Royal Marine who served in the Falklands conflict of 1982, gathered for a regimental dinner in the Great Hall.
Published 24 October 2012