Royal Marine survives Taliban bullet
Marine Jason Nash was on duty in Helmand province when he was shot by insurgents in April 2010. But thanks to body armour doing its job, the…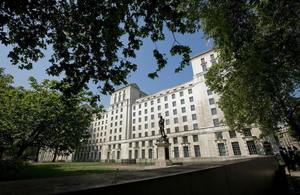 Marine Jason Nash was on duty in Helmand province when he was shot by insurgents in April 2010.
But thanks to body armour doing its job, the quick thinking of his fellow Royal Marines, and the excellent work of medics, he's back on the front line.
Mne Nash, 40 Commando Royal Marines, said:
I was working in my patrol base, building up the defences on the roof.

Just as I was about to climb down to get some water, a single round hit me in the left arm.

It went through and into the side plate of my body armour and knocked me clean off the roof. It felt like a car had hit me in the ribs.

I looked down at my arm and I could see the blood, but the other lads instantly got an emergency care bandage on me to stop the bleeding.
A Jackal patrol vehicle took Mne Nash to a forward operating base from where a Chinook was used to take him to the field hospital in Camp Bastion:
I was at the base within 15 minutes of getting hit and the Medical Evacuation Response Team was waiting for me," said Mne Nash.

Once I got to the hospital at Bastion I was straight into the operating theatre.

The whole process from the first shot to waking up after surgery was about four hours.

It was unbelievable - the medical chain is amazing.

You hear stories about it but it's only when you experience it for yourself that you really see how good it is.
Mne Nash stayed in hospital under observation for two days where the wound was packed, and five days later he went back to have 20 stitches to close the wound.
Mne Nash has now rejoined his colleagues in Sangin.
This article is taken from the July 2010 edition of desider - the magazine for Defence Equipment and Support.
Published 23 July 2010