Royal Marine makes judo squad for London 2012
Royal Marine Chris Sherrington has been named in Team GB's judo squad for the London 2012 Olympics but, as Lorraine McBride reports, he's taking nothing for granted.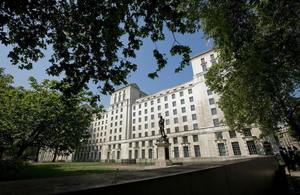 British heavyweight judo champion Marine Chris Sherrington oozes dedication from every pore. Clearly his formidable training ethic has paid dividends as last week he was named in Britain's 14-strong Olympic judo squad in the men's +100kg category.
Describing his joy at making his Olympics debut, Marine Sherrington said:
It is a real relief to be honest because I feel like I've been waiting a long time to hear about whether or not I have been selected. I now know which direction I'm going in and I have a goal that I'll be aiming for.

This is my first Olympics and I am really honoured to have qualified. It's a double honour because not only am I representing my country but also the Royal Navy and the Royal Marines who have been hugely supportive of my training and have helped me get where I am today.
It's a cliche that an athlete lives, eats and dreams sport, but in Marine Sherrington's case this is illustrated to a tee as he laughingly recounts the night that he unwittingly pinned wife Zoe in a headlock in his sleep, dreaming that he was fighting.
Luckily, Zoe behaved just like any opponent staring defeat in the face and meekly tapped his arm in submission. Moments later, he leaned over muttering:
Did I win?
The Marine was just 10 years old when he first tried judo:
Mum and dad used to make us go so they could grab time for themselves every Friday night," said Marine Sherrington.
But two years later he quit and switched to rugby union, sticking with it until his late teens.
Marine Sherrington joined the Marines in 2000 and it was after a deployment to Iraq that he felt inspired to return to judo as an outlet for his surplus energy. Racing through his green, brown and the coveted black belts in 12 breakneck months, he began to compete a year later at the relatively advanced age of 22:
I wanted to see how far I could make it and within six months I was number three in Britain.
Judo has taken him all over the world to Europe, Russia, Japan, New Zealand, Samoa, America, Canada and Belarus, but he sees little of the exotic cities he competes in:
I turn up on the Friday, get to my hotel, weigh in, sleep, fight Saturday and fly home Monday. I get a stamp on my passport but that's about it," he said.
A Marine through-and-through, 21-stone (133kg) of solid muscle and six-foot-five (1.95m), Marine Sherrington credits the physical conditioning of his beloved Marines for instilling him with tip-top fitness and a never-say-die belief.
He needed it too. Although ranked Britain's heavyweight number one judo champ back in the spring, Marine Sherrington's top-dog status belied a labyrinthine points system that left him ranked 54th in the world, which meant that Olympic selection went right to the wire:
You can be number one in Britain but not even be ranked in the world," explained Marine Sherrington.

Judo is very tough. It's one of those sports that you've got to hang in at, as long as your body can physically take it.
The last few years have been hard physically. In 2009, he was beset with crippling shoulder, ankle and knee injuries resulting in four major operations that could have ended his career. But he stuck with it and his unswerving Bootneck conviction means that few would bet against him coming out on top against the best in London 2012.
Coming from a minnow sport, Marine Sherrington knows that judo lacks the razzmatazz of many spectator sports.
Despite taking two British Open golds, he clearly doesn't envy the global fame of footballers Gerrard, Rooney and Terry, though he's something of a novelty on the circuit for sporting his cherished Green Beret whenever he clambers up onto the winner's podium.
In top-level sport, sacrifices come thick and fast. Like most athletes, Marine Sherrington doesn't drink or has even enjoyed a holiday in six years:
To be successful in judo, I have to focus because it is just so tough," said the Marine.
Even his 2011 marriage to Zoe was squeezed in before a fight in Estonia 48 hours after the ceremony:
Zoe knows the score and how much I've put into it," he said. "In the past, I've been broken and snapped. I've had to rest; you can never plan what's going to happen.
On the tantalising prospect of Olympic glory in London 2012 Marine Sherrington said:
It is hard to say who I'll be watching out for because we're talking about the top 24 guys in the world - it is a complete luck of the draw in the way the fights will be marked up so I'm just concentrating on my training at the moment.
Although physical exercise is a massive part of being a Marine it is very different to what I do now because it is so controlled and judo is very technical. We can't just use our muscle to move people around - it is all about technique and style.
Marine Sherrington is the polar opposite of a showboater who's long lost count of his medal haul:
A lot of people fall out with me over this," he admitted.
When he ran out of space at home, he gave his medals to his mum but, faced with the prospect of building an extension, she handed them back:
To be honest, they all started going in the bin," he said.

You've got to remember, I'm a Marine," he added. "I don't consider myself a judo player. I'm just playing in someone else's yard at the moment and the only medals I'm interested in are the best.
Asked if that elusive gold medal seeps into his brain the moment he wakens, Marine Sherrington pauses:
When I first went into judo, the typical Marine thinking is 'I can do anything, I can win anything'. Then reality hits because, until you've done at least six years of judo at international level, you're not going to win.

For the first four years on the international scene I went out first fight. Slowly, you win one… two… then you go out again. You go in another competition and win one, then win two. Then, all of a sudden, it all comes together as it did for me in Samoa and you win five fights and take gold.
Marine Sherrington's career highlight to date was at the Samoa World Cup when he won gold for Britain:
Put it this way, very few people win a gold medal at the World Cup," said Marine Sherrington with justifiable pride. "I will be putting that one in a frame on the wall.
Many will be hoping that come London 2012 Marine Sherrington may just have to clear a bit more space in the trophy cabinet.
Please tell us what you think about government news on the web by filling in the short survey at Related Links.
Published 3 July 2012