News story
Royal Mail - Cable announces largest employee shares scheme in 25 years
This will be the largest employee shares scheme of any privatisation for 25 years in terms of the number of workers who will benefit - second…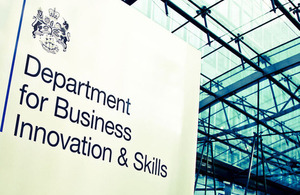 This will be the largest employee shares scheme of any privatisation for 25 years in terms of the number of workers who will benefit - second only to the privatisation of British Telecom in 1984.
The percentage being allocated to employees is also potentially one of the largest - larger than BT, British Gas or British Airways.
This new commitment will be written in to the Postal Services Bill, which the Government plans to introduce in the autumn.
Vince Cable said:
---
"I want to take action to secure the future of two cornerstones of British life - Royal Mail and the Post Office. The much valued Post Office is not for sale and there will be no repeat of the previous closure programmes.
"But Royal Mail is a different business, with different challenges. It is struggling under the weight of some huge pressures: pressure from email and falling mail volumes; pressure from a dire pension position; pressure from a lack of money to invest.
"The only way to save it for the future is to bring in new private capital to support the ongoing modernisation and growth opportunities. This will bring new commercial disciplines and the enormous public sector deficit means that the taxpayer does not have an endless supply of money to meet the company's investment needs.
"We also have to tackle the multi-billion pound pension deficit and put in place lighter touch regulation that gives the company a good chance in the market and protects the universal postal service that so many of us depend on.
"But just as important is the engagement and participation of staff in turning this company around. That is why our legislation will include a specific provision to make available at least 10% of the shares in Royal Mail to employees, as part of the privatisation process. This is a once in a generation chance to transform the culture at Royal Mail - energising everyone and allowing employers and employees to share in the company's future success."
---
Notes to Editors
Further detail will be announced as part of the Postal Services Bill that will be introduced by the Government in the autumn.

The Bill will draw heavily on the analysis and recommendations made by Richard Hooper as part of his report on saving the Royal Mail's universal service in the digital age.

The report can be viewed here http://www.bis.gov.uk/policies/business-sectors/postal-services/hooper-review

Richard Hooper made three main recommendations:
A new less burdensome regulatory framework is needed with responsibility for regulation moving from Postcomm to Ofcom;

The pension deficit should be taken over by the Government as part of the wider range of measures; and

Private sector capital must be introduced into Royal Mail in the form of sale to a partner/trade investor or an IPO.
Example of previous privatisations:
Under 50,000 employees
Rolls Royce, privatised in 1987, 10% to employees

British Airways, privatised in 1987, 9.5% to employees

Water plcs, privatised in 1989, 3% to employees

NATS, privatised in 2001, 5% to employees
50 to 100,000 employees
British Aerospace, privatised in 1982, 3.3% to employees

British Gas, privatised in 1986, 5% to employees

British Steel, privatised in 1988, 6.2% to employees

Regional Electricity, privatised in 1990, 4% to employees
Over 100,000 employees
BT, privatised in 1984, 5% to employees

Railtrack, privatised in 1996, 0.6% to employees
Royal Mail has over 150,000 employees.

BIS' online newsroom contains the latest press notices, speeches, as well as video and images for download. It also features an up to date list of BIS press office contacts. See http://www.bis.gov.uk/newsroom for more information.
Notes to Editors
Contact Information
Name BIS Press Office Job Title
Division COI Phone
Fax
Mobile
Email NDS.BIS@coi.gsi.gov.uk
Name Joe Upton Job Title
Division Department for Business, Innovation and Skills Phone 020 7215 5959 Fax
Mobile
Email Joe.Upton@bis.gsi.gov.uk
Published 22 September 2010