News story
Royal Launch of Hillsborough in Bloom 2014
On her second day of engagements in Northern Ireland, HRH The Duchess of Cornwall attended a reception hosted by Lisburn City Council to launch the village's campaign 'Hillsborough 2014 - Going for Gold'.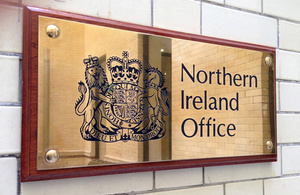 On arrival at the Courthouse, HRH was greeted by Simon Brien, Sheriff for Co Down, Margaret Tolerton, Mayor of Lisburn City Council and Adrian Donaldson, Director of Corporate Services, Lisburn City Council.
Outside the Courthouse, The Duchess was invited to view a number of displays for the forthcoming 'Hillsborough in Bloom', including the 'Hillsborough Bugler' - a striking display consisting of red and white carnations.
Hillsborough has been competing in "Ulster in Bloom" competitions since 1974 and has achieved various levels of recognition and awards over the past 40 years. In recent years the importance of community involvement has become more significant and the Council has nurtured many relationships with the Village Committee and other relevant organisations in Hillsborough, such as the Horticultural Society; the Scout Group; the Parish Church; and the NI Environment Agency. Those collaborative efforts have resulted in Hillsborough being a finalist in the Royal Horticultural Society 'Britain-in-Bloom' competition for each of the past two years, and winning Silver Gilt Awards in both years.
In 2014, the 50th Anniversary year of the 'Britain-in-Bloom' competition, Hillsborough is again a finalist in the Large Village Category.
Moving into the main reception within the courthouse, HRH was introduced to a number of groups of invited guests from the Hillsborough community, including the Village Committee; members of the Horticultural Society; the local Scout Group; and local church representatives. HRH also met the talented gardening staff from Lisburn City Council who prepare and plant the many floral displays that Hillsborough village is famous for.
HRH The Duchess of Cornwall formally launched the Hillsborough in Bloom 2014 campaign by presenting a tray of plants to Flora McGirr, Hillsborough Village Committee. She also presented the Mayor with a plant from HRH The Prince of Wales's private residence.
Before departing, The Duchess of Cornwall was presented with a small posy from 3 year old Emma Smith, grand-daughter of the Mayor.
Published 2 April 2014