Royal Irish soldiers build relationships in Helmand
The 1st Battalion The Royal Irish Regiment Battle Group recently deployed to Helmand as part of 16 Air Assault Brigade and is forward mounted…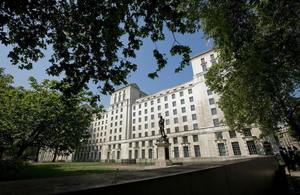 The 1st Battalion The Royal Irish Regiment Battle Group recently deployed to Helmand as part of 16 Air Assault Brigade and is forward mounted in patrol bases and checkpoints within the Nad 'Ali area of the province.
As part of this, the B Company multiple is based at Check Point Kamyab supporting an ANA Tolay (unit) providing security to the population of Char-e-Mirza.
This area of responsibility comprises two villages, Kakaran and Baluchan, and the more sparsely populated areas of Nazaran and Saidan.
The area itself is within the irrigated Green Zone, with fields growing cotton, maize and peanuts separated by tree lines and irrigation and drainage ditches.
Reflecting on his experiences so far Lieutenant Marc Barrow, an officer with B Company, said:
Any initial misconceptions about the ability and professionalism of our Tolay were quickly put to bed.

The ANA soldiers with us are all very professional and take personal pride in every task that they undertake. It is their people and they are responsible for their security.
The ANA and B Company have now started a detailed human terrain mapping programme, which has been very encouraging, enabling the timely sharing of information about what is happening in the area.
The joint patrols approach compounds and farmers and have 'mini-shuras' with them, which allow them to gain information, and provide an opportunity for the locals to interact with the ANA and ISAF troops.
Lieutenant Barrow continued:
Naturally the ANA are very adept in the local terrain, they understand the populace and can identity easily someone not from the immediate vicinity. In fact they were the ones who mentored us for the first few days of patrols. The hospitality shown towards us has been fantastic, and the bonds between all ranks are quickly forming.

The work we have been carrying out since the takeover has been varied. After the usual familiarisation patrols, we began reassurance patrols of Kakaran and Baluchan.

The response from the locals, especially the kids, is great. They are willing to talk to the joint patrols openly and the children stop whatever they are doing to practise the few English phrases they know.
Published 25 October 2010