Royal Engineers replace insurgent-damaged Helmand bridge
Royal Engineers working along with US Army engineers have replaced a bridge on a key route in Helmand province which was recently destroyed by an insurgent bomb.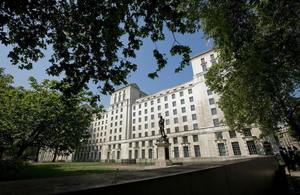 The bomb, which partially destroyed the Singhazi bridge on Highway 1, also injured some ISAF troops. Thankfully, the troops were all fine; but the damaged bridge meant that huge traffic tailbacks of up to 5km ensued.
Some Afghans were stuck for hours whilst trying to go about their daily business on the key road, which has been referred to as the M25 of southern Afghanistan.
As well as conducting the operations to rebuild the bridge, the ISAF and Afghan troops also handed out food and water to stranded Afghan motorists.
The morning after the explosion, ISAF and their Afghan National Army (ANA) partners established an alternate bypass route. Subsequently a combat bridge, normally used to help troops cross obstacles, was sent from Camp Bastion and, within two hours of its arrival, was set up and ready to go.
By dawn the following morning, this small bridge had significantly reduced the traffic build-up by allowing smaller vehicles across. This was helped by expert traffic marshalling from members of Colchester-based 156 Provost Company Royal Military Police and the ANA.
These troops lived by the bridge, enduring the cold of the night and heat of the day, to ensure that traffic crossed in a safe and controlled manner.
Concurrently, planning was underway by Task Force Helmand to put in a more permanent solution, using the expertise of Sappers from Woodbridge-based 23 Engineer Regiment (Air Assault), and a permanent logistic support bridge was up and running within weeks of the explosion after the British and American Sappers spent the festive period living at the site.
Lieutenant Colonel Frazer Ross, Commanding Officer of 23 Engineer Regiment (Air Assault), said:
This has been an extraordinary effort across the board. Afghan, British and US troops have all combined to ensure that Highway 1 has reopened to local and commercial traffic in an extraordinarily quick time for an operation of this size and complexity.

The engineering and logistical challenges involved have been significant, but by all pulling together the operation has been a complete success, despite the constant and high insurgent threat to the troops involved.

All the troops involved have been marvellous and surpassed already high expectations. But in the final analysis, the insurgency only managed to reduce traffic flow on Highway 1 for one night and ISAF has prevailed again.
The full repair of the bridge is now being planned with the Afghan Government to ensure that this vital highway is able to continue to provide freedom of movement to the people of Afghanistan.
Published 10 January 2011