Royal Engineers presented with Afghanistan medals
The Royal Engineers have spent the last six months in Helmand helping with the mission to prepare the Afghans to fully take over the security…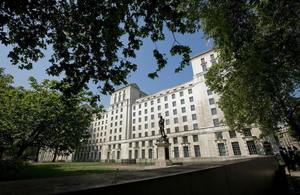 The Royal Engineers have spent the last six months in Helmand helping with the mission to prepare the Afghans to fully take over the security of their own country.
Amongst their tasks was the construction and upgrading of tactical infrastructure for British troops, including patrol bases, forward operating bases and military checkpoints.
They also cleared convoy routes by detecting and destroying hidden improvised explosive devices and were also responsible for dismantling and destroying insurgent fortifications including narcotics and weapons hideouts.
The largest project the soldiers from 35 Engineer Regiment were involved in was the construction of the 70-metre-long Freedom Bridge to connect communities either side of the Nahr-e Bughra canal - the longest bridge built by British military personnel while on operations since the Second World War.
The medal parade took place at Schutzenplatz in Paderborn and was watched by the families of the soldiers and also included music from the Band of the Corps of Royal Engineers.
Addressing the soldiers during the ceremony Major General James Bashall, General Officer Commanding of Germany-based 1 (UK) Armoured Division, who presented the medals, said:
There are a few special days in our careers that serve as landmarks, this is one such day. I welcome you all home; it's good to see you again.
I'd like to thank and pay tribute for the vital work of the Rear Operations Group. They have sustained morale while you were away.
I would like to thank your families - the Army cannot exist without their support. The mothers, fathers and children who have had to endure six months of worry are special people. I thank them for their patience and commitment.
Operation HERRICK 15 is not yet finished; as we stand here today we have in our thoughts that many of 20th Armoured Brigade are still deployed.
35 Engineer Regiment have made a real difference; you have built checkpoints and bridges and cleared supply routes, working in difficult conditions. You have left a wonderful legacy.
I offer you a big thank you for all you have done. I hope you are stronger and better soldiers for your experience in Helmand.
The men and women of 35 Engineer Regiment will now begin a period of well-deserved leave before returning to their barracks to begin training for their next mission.
Published 16 April 2012