Press release
Royal Couple visit Moy, Co Tyrone
TRH THE PRINCE OF WALES & THE DUCHESS OF CORNWALL VISIT THE VILLAGE OF MOY, CO TYRONE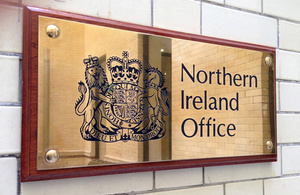 On the final engagement of the day, TRHs The Price of Wales and The Duchess of Cornwall visited the Co Tyrone village of Moy. On arrival at St James' Church of Ireland Parish Hall TRH were greeted by The Lord- Lieutenant of Co Tyrone, Robert Scott OBE.
In the hall, they had the opportunity to meet with representatives of YouthAction Northern Ireland and hear about the work that their local volunteers undertake to reach out to young people and involve them in community life. TRH also met with some of those involved in YouthAction's peace building project – Champions for Change'.
The Hon Shane O'Neill, President of YouthAction presented a number of YA leaders and young people who are involved including Art installation, YouthAction Trustees, Peer Research on a Youth Peace Manifesto, Carrick Row Peace Building Project, Cunningham Lane – 'Kick Sectarian and Racism out of Football', Moygashel drugs and alcohol awareness campaign and Moy mural work. TRH were then invited to view an Irish Dancing Display by local young dancers.
Moving out to the large outdoor marquee, Rev Mayes, Rector of St James' Parish Church, Moy presented a number of community and church organisations which included Moy Regional and St Johns' Primary Schools shared space project, the Boys' and Girls' Brigade and the Mothers' Union/Craft group.
Prior to farewells, TRH The Prince of Wales and The Duchess of Cornwall took the opportunity to visit St James' Church, where they met with Clergy from other local churches, the Church vestry and listened to a local soloist. TRH were then invited to sign the visitor's book before departure.
This brought to a close the two day visit by HRH The Prince of Wales and The Duchess of Cornwall.
Published 27 June 2013