News story
Royal Celebration for Riding for Disabled Group
On the final event of her 2 day visit, HRH The Princess Royal joined Banbridge and Moira Riding for the Disabled group as part of their 25th Anniversary celebrations.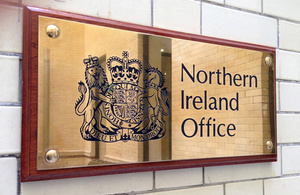 On arrival at Tullnewbank Riding School in Glenavy, HRH was met by Joan Christie, Lord Lieutenant of Co Antrim, Julie Jordan, Regional Chair of Riding for the Disabled (RDA) and Shirley Lee, Group Chairman.
Banbridge & Moira Riding for the Disabled was established in 1989. The group comprises 24 volunteers, 22 riders, 4 instructors and 1 trainee instructor. It has focused on disabled adults as riders and cares about the mental well-being of the families and riders and not just the physical exercise riding brings.
The Princess Royal was invited to tour the stable yard where she had the opportunity to meet riders grooming their horses as well as RDA volunteers. She also took time to view two team events within the main Arena, and on completion of the games met the riders and presented Rosettes to all those taking part.
Moving to the main marquee, Mrs Lee invited HRH to present the President's Award and a number of Long Service Awards to RDA volunteers, before cutting the Groups' 25th Anniversary cake.
Before departing, The Princess Royal was presented with a hand-crafted wooden Shepherd's Crook along with 2 RDA Anniversary Tea Towels.
Published 14 May 2014