Royal Auxiliary Air Force medic saves lives
A Royal Auxiliary Air Force airman who set up life-saving medical centres for Afghan children caught up in the conflict has been described as an inspiration and his contribution to the local communities across Helmand as immeasurable.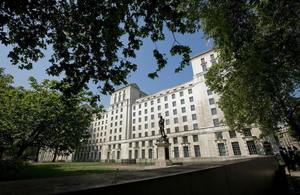 After decades of living under the shadow of the Taliban, isolated Afghan communities endure some of the harshest living conditions in the world. One of the most tragic facts is that one in five children dies before their fifth birthday.
Squadron Leader Colin Mathieson, a Medical Support Officer with 4626 (County of Wiltshire) Aeromedical Evacuation Squadron at RAF Lyneham, spent six months in Lashkar Gah supporting the reconstruction and development of healthcare for the local Afghan population.
During that time he helped set up the delivery of critical healthcare training and education with the help of local medics, a role which often required delicate negotiations with key local leaders, British and American military personnel and UK Foreign Office Stabilisation Advisors to establish what could be done with limited resources:
The key I found was to support the Afghans so they could deliver, not to do it for them," said Squadron Leader Mathieson. "So when it came to delivery it was apparent that it was an entirely Afghan-led event.
He added:
We are like the trainer in the corner of a boxing ring. The Afghan population has been battered by 35 years of war and we are now in a position to support them so they can go out in 2015, the fifteenth round so to speak, and support themselves.
Squadron Leader Mathieson believes his team and ISAF are making a real difference:
On the news I had seen Sangin and Musa Qal'ah districts in ruins but to go there and see thriving markets demonstrated to me the progress we are making.
To then visit a clinic that is functioning and delivering healthcare to a standard much higher than it had ever done before is testimony to the incredible amount of work that people in the PRT [Provincial Reconstruction Team] and Military Stabilisation Support Teams are doing, despite the risk to themselves.

Up until six months ago [before I went out to Afghanistan] we couldn't even get to a particular clinic in Sangin and so to be able to go there and make contact with the locals was incredible.

Through the Health Initiative Programme we also worked with the local clinicians to set up a programme of basic health tuition. We ended up training 17,000 Afghans in the very basics of healthcare.
A Publishing Director with Exchange & Mart in High Wycombe in civilian life, Squadron Leader Mathieson has been a reservist for 27 years and found that his work in Afghanistan tapped into both his military and civilian experience:
The job I did had nothing to do with aeromedical evacuation. I did a medical liaison job and spent more than half my time outside the wire," said the 45-year-old father of four.

I flew all over Helmand to places the RAF probably hasn't been to, let alone an RAF reservist. My role was to speak and liaise with as many Afghans as possible to determine what the medical problems were, how we could help and also how we couldn't help.

This is a perfect example of using 27 years of military experience alongside 27 years of commercial experience. If you're not careful you can promise too much and if it doesn't get delivered then the Afghans may turn to the Taliban. You have to get your negotiations right.

In 'civvie street' negotiating contracts with a variety of different people and organisations is part and parcel of my day job and I found this of immense value in Helmand.

Going on patrol with the US Marines and walking up Sangin High Street you're thinking 'I'm an RAF Reservist Squadron Leader, what am I doing here?'
This article first appeared in RAF News - the newspaper of the Royal Air Force.
Published 24 January 2012