World news story
Royal Air Force Red Arrows visit Albania
The public enjoyed RAF Red Arrows flypast over Tirana.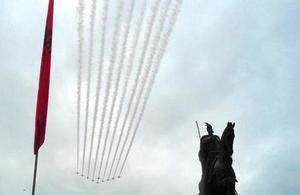 On Friday 18 March eleven hawk jets from the Royal Air Force Aerobatic Team, the Red Arrows, performed a flypast over Tirana, on the way to their annual winter training. This is the first formal visit of the Red Arrows to Albania, providing an important opportunity to further develop bilateral military ties in the framework of NATO.
During their overnight stay in Tirana the British Embassy held a reception in honour of the Red Arrows, where the team met Minister of Defence Kodheli, Deputy Minister Koci, and Albanian military personnel. Stephen Hickling, British Charge d'Affaires emphasised the very good bilateral cooperation on defence and security between United Kingdom and Albania.
Defence Minister Kodheli, spoke of the UK and Albania facing future challenges as confident NATO partners. UK Defence Attaché, Lt Col Richard Parry noted the wide ranging opportunities for Albanian cadets to study and train in the foremost UK military colleges such as the Royal Navy College Dartmouth, the Royal Military Academy Sandhurst, Royal Air Force Cranwell, and the Royal Marines Commando Centre. Squadron Leader, "Monty" Montenegro said he was impressed with the beauty of Albania from the air and the warm welcome in Tirana, and looked forward to perhaps being able to visit in future.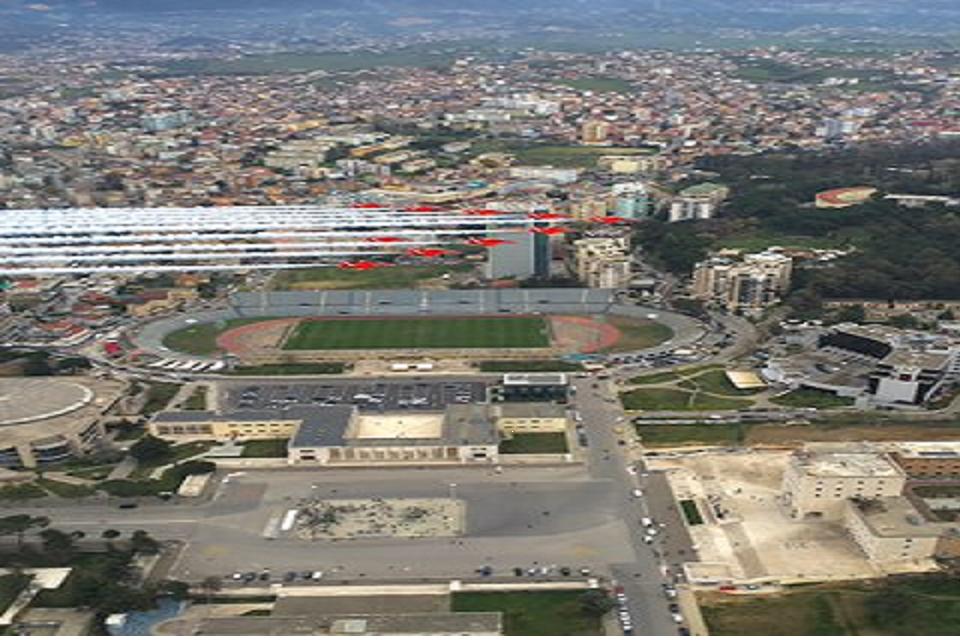 Prior to the flypast, the Albanian Air Forces displayed some of its most modern equipment; a Cougar and EC-145 helicopter. Albanian Air Force Commander Brigadier Vladimir Avdiaj said that he was looking forward to bilateral Albanian Lion Exercise 2016. Tirana Mayor, Erion Veliaj was given a tour of the display in Mother Teresa Square, speaking to the Albanian Armed Forces' UK graduates, and helicopter crews.
At 10:00 the public and participants enjoyed RAF Red Arrows flypast over the Boulevard in Tirana.
Published 18 March 2016