World news story
Round table on Preventing Sexual Violence in Conflict (PSVI) held at the British Embassy
The British Embassy in Lima organised this event to mark the PSVI Global Summit in London and the #TimeToAct initiative.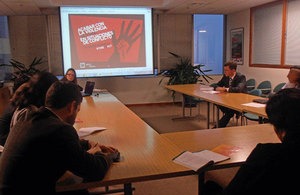 June the British Embassy in Lima organised a round table on Preventing Sexual Violence in Conflict (PSVI). The event was held at the British Embassy and brought together leading Human Rights NGO's and state officials to discuss international humanitarian law and the widespread use of sexual violence in Peru during the internal armed conflict between 1980 and 2000. This meeting was part of a series of activities carried out by the Foreign and Commonwealth Office to mark the PSVI Global Summit that took place in London between 10 and 13 June.
HMA James Dauris gave the opening words explaining that "we are convinced that sexual abuse and violence are not inevitable, because they are part of an intentional war strategy that can be subject to deterrence, prevention and punishment. It is a moral responsibility to solve, to prevent and to end this abhorrent crime." The roundtable began with a presentation by Jessica Maeda, Human Rights Advisor at the Ministry of Justice and Human Rights, who spoke about the evolution of international humanitarian law and its implications to prevent cases of sexual violence. The next presentation was delivered by Diana Portal, Commissioner of Women Rights at Peru's Ombudsman Office. Miss Portal pointed at the widespread use of sexual violence during the internal armed conflict in Peru and the Government's response. The roundtable ended with a Q&A session were participants also shared their work preventing sexual violence and helping victims.
Present at the round table were representatives from the Ministry of Justice and Human Rights, the Ministry of Women, the Ministry of Defence, Catholic University Institute of Democracy and Human Rights (IDEHPUCP), the Pro-Human Rights Association (APRODEH), the Legal Defense Institute and the Embassy of Canada. Topics covered included the relevance of PSVI in Peru, bringing justice to victims of sexual violence and practical actions to make sure these crime won't happen again in Peru. The PSVI campaign was launched on 29 May 2012 by the British Foreign Secretary, William Hague, with the Special Envoy of the UN High Commissioner for Refugees, Angelina Jolie. This initiative aims to strengthen and support international efforts to respond to sexual violence in conflict - enhancing the capacity of countries, institutions, and communities to support survivors and end impunity for perpetrators.
Published 11 July 2014