News story
Round 2 opens for £240 million business skills fund
Businesses from all sectors and all sizes can apply for money to design their own training programmes.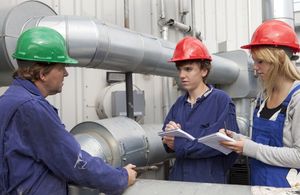 Applications are now open for round two of the Employer Ownership Pilot (EOP). This allows employers to recommend how courses are designed so that they are closely aligned to industry needs.
In particular, small businesses are being urged to put forward proposals as to how the fund can help them grow. These could include starting new apprenticeship programmes to creating specialist training academies.
Why should employers get involved
You can apply and submit bids through the UK Commission for Employment and Skills (UKCES).
The Glass Academy
A recent example of a project partly funded by EOP is The Glass Academy, a project created by a consortium of businesses in the glass industry to inspire more young people to work in the sector.
Glass is vital to society today, and apart from everyday household items, it is essential in the development of hi-tech applications such as touch-screens for phones and tablets, medical devices and fibre optics.
The Academy will transform how the industry recruits, develops and enhances the people involved in glass manufacturing by offering apprenticeships and in-work training, and better links with schools, universities and professional organisations.
At its launch on 5 February, Skills Minister Matthew Hancock said:
"This is a fantastic example of businesses working together with government to help their industry to thrive, while also giving thousands of young people the opportunity to forge their careers in an evolving and growing sector."
Further information
Published 7 February 2013