Press release
Rotherham commissioners confirmed
The Local Government Secretary has confirmed that 5 commissioners will take over the running of Rotherham metropolitan borough council.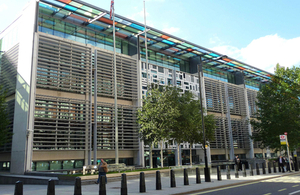 Following Professor Alexis Jay's report into child sexual exploitation in the town and Louise Casey's best value inspection published earlier this month, which found widespread failings across the council's culture and services, Eric Pickles announced that he was minded to send in commissioners to take on the full range of authority's executive functions and begin a rapid improvement programme. And having consulted on the proposals for the past 3 weeks he today confirmed he would be going ahead with the intervention with immediate effect.
The commissioners will be led by Sir Derek Myers, the former joint Chief Executive of the London Borough of Kensington and Chelsea and Hammersmith and Fulham.
Sir Derek will be supported by Stella Manzie CBE, a former Chief Executive of Barking and Dagenham, Coventry, Redditch and West Berkshire councils, who will take on the role of Managing Director Commissioner responsible for the day to day running of all services until the Commissioners appoint a new permanent chief executive.
In addition Malcolm Newsam will remain in Rotherham as Children's Social Care Commissioner, having been nominated by the Local Government and Education Secretaries, and Mary Ney and Julie Kenny CBE will act as supporting Commissioners.
In order to improve services for victims of child sexual exploitation in Rotherham, the Secretary of State added that he is prepared to make available £250,000 over 2 years to allow the re-establishment kind of service that the Risky Business project previously provided in the town.
And in his written statement to MPs Eric Pickles also confirmed that he remains minded to use his powers under the Local Government Act to move Rotherham to 'all out' Council elections from 2016.
The Secretary of State said:
Louise Casey and Professor Alexis Jay's reports made clear that Rotherham suffered from a complete failure of political and officer leadership, with a pervading culture of bullying, sexism, suppression and misplaced political correctness that has cemented the council's failures. While we do not take such significant steps lightly, the council is currently incapable of tackling its weakness without substantial intervention.

However I am confident that with the right leadership provided by these 5 commissioners we can give Rotherham the fresh start it needs. The people of Rotherham and, most importantly, the victims of child sexual exploitation, need better services than they have been given until now and deserve a council they can trust to provide them.
Further information
Rotherham commissioners - biographies (PDF, 81.6KB, 2 pages)
Office address and general enquiries
2 Marsham Street
London
SW1P 4DF
Contact form http://forms.communiti...
General enquiries: please use this number if you are a member of the public 030 3444 0000
Published 26 February 2015