News story
Rolls-Royce and Airbus meet Brexit Minister in Bristol
Bristol businesses Airbus and Rolls-Royce were visited by David Jones, in his first visit to the South West as a Minister for the Department for Exiting the European Union (DExEU).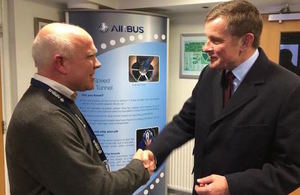 The Minister is travelling across the country to meet with companies and understand their priorities for trade and business, as the Government prepares for negotiations for Britain's exit from the European Union.
As well as seeing a wind-tunnel facility at the £70 million Airbus Aerospace Park, which is used to test new aircraft before they fly, the Minister was given a tour of the state-of-the-art defence aerospace operations at Rolls-Royce where helicopters and combat jets are produced.
He also chaired a roundtable at Rolls-Royce with senior leaders from the aerospace industry, to listen to their views and questions about the Government's approach to Brexit.
DExEU Minister David Jones said:
It was important for me to meet with Airbus and Rolls Royce during my first visit to the South West as a DExEU Minister. These companies are two of Britain's biggest manufacturers and each employ thousands of people in Bristol and beyond.

They were productive discussions and while there were understandably questions, I reiterated that Brexit marks a positive and exciting new chapter in our country's history.

As we act on the historic referendum result, we are the same outward-looking, globally-minded, flexible and dynamic country we have always been.
The aerospace roundtable discussion was attended by senior leaders from the following businesses:
Rolls Royce
Airbus
National Composites Centre
ADS Group
AVPE
Aerostructures Europe, GKN
Helen Kennett, Rolls-Royce Director of UK Government Relations, said:
We were delighted to welcome David Jones to Rolls-Royce in Bristol to meet some of our highly skilled workforce.

It was also a great opportunity for the Minister from the Department for Exiting the European Union to find out more about our defence aerospace operations and wider company interests.
Published 15 December 2016