Press release
Rod licence money improves Great Ouse
A section of bank on the Great Ouse at Stony Stratford has been repaired using money from rod licence sales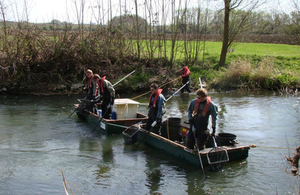 The bank had worn as a result of livestock and flow pressures from Stony Sluice. It has now been reinforced and protected using willow bundles. The work has provided an instant habitat and as the 'live' willow grows it will further stabilise the bank preventing further erosion and the build up of silt.
The Environment Agency's Ian Hirst, Fisheries and Biodiversity Team Leader for Cambridgeshire and Bedfordshire, said:
Buying a rod licence supports our work to improve fishing and help improve rivers. Without this funding we would not be able to monitor our fish populations and make the right investments to improve the water environment.
His team worked with Milton Keynes' Parks Trust and volunteers to repair the section of eroded bank on the Great Ouse at Stony Stratford.
Milton Keynes' Parks Trust and their volunteers will look for other opportunities to apply their newly acquired skills and help make improvements to the river habitats in Milton Keynes over the next few years.
Rod licence funds also enable the Environment Agency to carry out routine monitoring of fish populations using electrofishing and netting. This information provides a good indication of the health of a river.
The team also monitors fish passes and habitat improvements to assess their efficiency and understand how successful they have been in helping migratory fish. Funds also support a 24/7 emergency response service; meaning Environment Agency staff are on hand should the lives of fish be threatened as a result of low oxygen levels or pollution.
All anglers need a valid licence to fish legally and by buying they also contribute to work to keep the environment in good shape.
Fines for not holding a licence can be as high as £2,500. Licences can be bought using a credit or debit card by calling the telesales line on 0844 800 5386. Alternatively visit any Post Office or click here.
Published 17 April 2014