Press release
Rod licence blitz nets 23 anglers for offences on Lincolnshire waters
Environment Agency enforcement officers have been carrying out checks on anglers in Lincolnshire.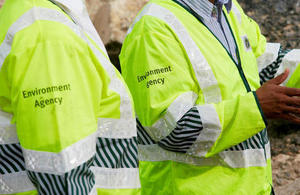 A number of illegal anglers will be left reeling after being nabbed by Environment Agency officers during a weekend blitz at fishing hotspots across Lincolnshire.
The patrols were carried out by Environment Agency enforcement officers who were acting on intelligence to seek out those fishing without a licence.
Officers carried out more than 400 checks in more than 60 waters across the county, and 23 anglers were reported for offences including fishing without a licence. They now face further action and, if found guilty in court, could face fines of up to £2,500.
Peter Stark, Senior Enforcement Officer at the Environment Agency, said:
The number of anglers caught red-handed is testament to how seriously we at the Environment Agency take illegal fishing, which disregards the law and the health of fisheries.

People who don't buy a licence are not only cheating other anglers and the future of the sport but running the risk of criminal conviction and a fine. There is no excuse – it costs just £27 for a whole year and you can buy it from the Post Office website.
Every year nearly 1 million anglers fish legally, respecting each other and the sport. The money they pay to buy a licence supports fish, fisheries and fishing, and protects the future of the sport.
For the minority who flout the rules, the most common offence is fishing without a valid licence. Fishing without a valid licence could land you with a fine of up to £2,500 and a criminal record.
Any angler aged 12 or over, fishing on a river, canal or still water needs a licence. An annual licence costs from just £27 (concessions available). You can buy your rod licence online from the Post Office, at your local Post Office branch or by phoning 0344 800 5386.
The Environment Agency's work is intelligence-led, meaning that work is targeted on areas where there are reports of evasion or are known illegal hotspots.
Published 4 October 2016