News story
Rochdale firm gets green light for government funding
Holroyd Precision received the final approval for the funding personally from Business Minister Michael Fallon today when he visited the site…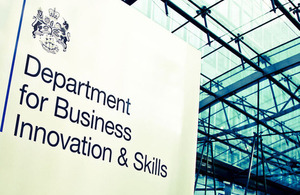 Holroyd Precision received the final approval for the funding personally from Business Minister Michael Fallon today when he visited the site. The company will receive £2.8 million from the fund which will support the development of a new factory and an R&D European innovation centre, securing 187 existing jobs and creating 137 new positions within Holroyd Precision.
Mr Fallon's visit came on the day that the Government announced the allocation of £1.05bn of extra funding from the third round of the Regional Growth Fund.
The North West region has received £77million from round three of the fund, which will create nearly 11,000 direct jobs and an estimated 8,900 indirect jobs. This is on top of the 46 successful bids from rounds one and two of the fund, of which 32 have already started
Business Minister Michael Fallon said:
"Today's news that £77 million of Regional Growth Fund money will be coming to the North West is a real boost for the area. But the real story of the Regional Growth Fund is the thousands of jobs that the fund is creating and the companies that it's helping.
"Holroyd Precision is a prime example of how we can help companies achieve their aspirations and create jobs in a timescale that works for them. The company will maintain its strong links with Rochdale thanks to the Regional Growth Fund and build its new European headquarters in the area. So not only are they staying here in the North West, but they are expanding and creating new jobs. Success stories like this are happening up and down the country thanks to the Regional Growth Fund."
The precision engineering company can now draw on the Government funding as soon as they are ready. The project represents a substantial vote of confidence in UK development and manufacturing by Holroyd's Chinese parent company Chongqing Machinery & Electric Co Ltd.
Don Whittle, HR Director of Holroyd Precision said:
"We are extremely pleased to have been awarded this £2.8 million from the Regional Growth Fund. This has enabled us to make further investments in additional staff, research and development projects, as well as securing the future of Holroyd Precision for many more years to come.
**Notes to editors
**1. Regional Growth Fund statistics for the North West Region:
a) RGF allocated to NW in round 3- £77m (20 projects and 1 programme)
b) Total gross jobs in round 3- 19,723 (10,765 direct/ monitored, 8,958 estimated indirect)
c) RGF allocated to NW in round 1&2 £231m (46 successful bids)
d) Round 1&2 projects started: 32 (£162million)
e) Round 1&2 projects running but not completed due diligence: 12 (£62million)
Nationally, the third round was highly competitive, with 130 projects and programmes being selected from 414 bids.

Projects are a type of RGF bid for funding which go direct to the final beneficiary whether it's a company, local authority or non-profit body.
A programme is a type of RGF bid which will be awarded to an intermediary who will then use it to run a grant or loan scheme for final beneficiaries in a particular place and/or for a specific sector and/or size of beneficiary.
Holroyd make high precision machine tools and components for a range of global markets including power generation and products for automotive, heating, ventilation, petro chemical and air conditioning uses. For further information please visit www.holroyd.com

Holroyd agreed the terms of the in the summer of 2011. However, the company was not in a position to start due-diligence until July 2012. Due-diligence took 5 weeks.

For a list of facts and figures by region as well as case studies please contact the BIS press office on 0207 215 5945.

The Regional Growth Fund (RGF) is a £2.4bn fund operating across England from 2011 to 2015. It supports projects and programmes that lever private sector investment to create economic growth and sustainable employment. More information on the Regional Growth Fund can be found here: http://www.bis.gov.uk/rgf

The Government's economic policy objective is to achieve 'strong, sustainable and balanced growth that is more evenly shared across the country and between industries.' It set four ambitions in the 'Plan for Growth' (PDF 1.7MB), published at Budget 2011:

To create the most competitive tax system in the G20
To make the UK the best place in Europe to start, finance and grow a business
To encourage investment and exports as a route to a more balanced economy
To create a more educated workforce that is the most flexible in Europe.
Work is underway across Government to achieve these ambitions, including progress on more than 250 measures as part of the Growth Review. Developing an Industrial Strategy gives new impetus to this work by providing businesses, investors and the public with more clarity about the long-term direction in which the Government wants the economy to travel.

BIS's online newsroom contains the latest press notices, speeches, as well as video and images for download. It also features an up to date list of BIS press office contacts. See http://www.bis.gov.uk/newsroom for more information.
Notes to Editors
Contact Information
Name BIS Press Office Job Title
Division Department for Business, Innovation & Skills Phone
Fax
Mobile
Email bispress.releases@bis.gsi.gov.uk
Name Nick Evans Job Title
Division Department for Business, Innovation and Skills Phone 020 7215 3496 Fax
Mobile
Published 19 October 2012