News story
Rochdale Borough Council signs Armed Forces Community Covenant
Rochdale Borough Council has formally committed itself to doing all it can to help former Service personnel in the borough.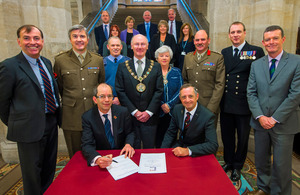 At a special ceremony at Rochdale Town Hall, council leaders joined with representatives of the NHS, Rochdale Boroughwide Housing and Link4Life to sign the Armed Forces Community Covenant, a voluntary statement of mutual support between the borough and the Services.
The principle behind the Covenant is that the Armed Forces Community should not be disadvantaged in society. In some cases, such as the sick, injured or bereaved, this means giving special consideration to allow them access to public or commercial services that civilians receive, including healthcare, housing and education.
In addition, the Covenant aims to highlight the sacrifices made by members of the Armed Forces, promote greater understanding of the issues facing them, and help fully integrate former servicemen and women into the community.
Councillor Colin Lambert, Leader of Rochdale Borough Council, said:
I am delighted that we are making this commitment to help former members of the Armed Forces and their families.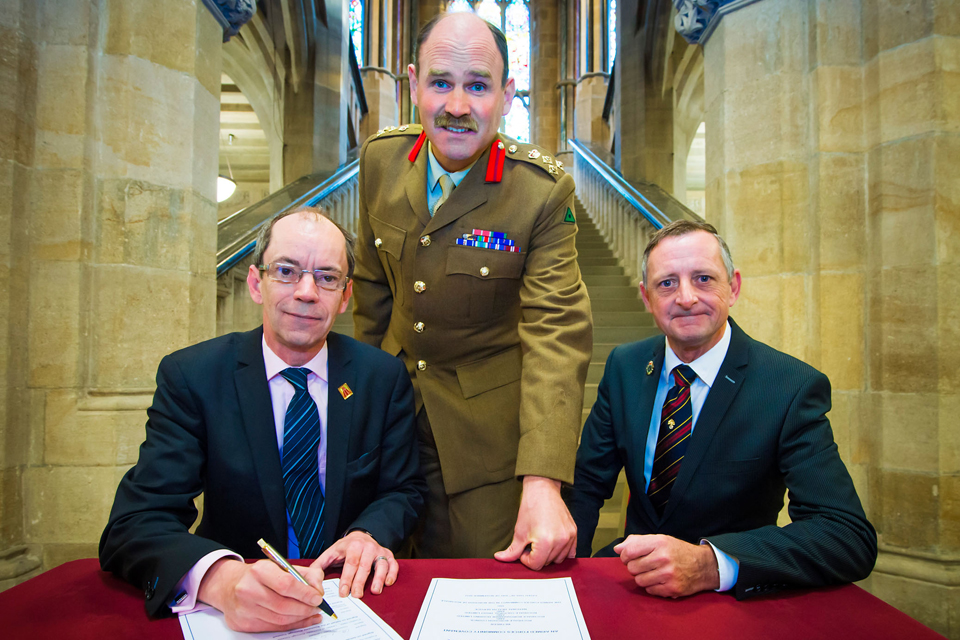 They have all made great sacrifices for their country and it is right that we do all that we can to embrace them into our community.
Councillor Alan McCarthy, the Council's Armed Forces representative, said:
The launch of the Armed Forces Community Covenant in the borough is a proud moment and reflects the great respect in which the Services and their families are held.
We are committed to supporting them in their everyday lives and improving the bond between the Armed Forces and the people they serve so magnificently.
Brigadier Nick Fitzgerald, Commander of 42 (North West) Brigade, thanked the borough on behalf of the Armed Forces for its support and praised the 'quiet professionalism and exceptional courage' of the many men and women from the area who have served their country down the years.
Published 4 December 2012