News story
Robot demolishes final cell
A robotic demolition machine has been used to help decommission a former reactor support building.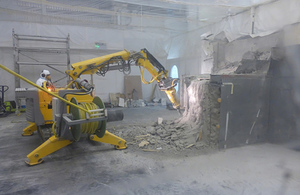 The final internal structure has been dismantled inside the Dounreay Materials Test Reactor (DMTR) support building complex which now allows the building to be demolished.
The complex contained a fuel pond, waste drum store and a post irradiation examination cave – all of which have previously been decommissioned.
The final structure, a holding area for the site's solid remote handled waste, was pulled apart remotely using a robotic demolition machine (Brokk 180). It has allowed the facility ventilation system to be shut down in order to complete the last phase of decommissioning before the building structure is demolished later this year.
Project Manager Bill Lambie said:
"This marks the end of a lengthy campaign to decommission the DMTR complex and allows us to demolish the support building. It is a significant achievement, made possible through the skills, ingenuity and hard work of the engineers, supervisors and decommissioning operatives who are part of the project team, and also by working closely with other support functions."
Mark Raffle, NDA Programme Manager, said:
"The DMTR complex is a large and significant facility which served a number of vital roles in the operation of the site, even after DMTR ceased operation. Its imminent demolition will be an important and very visible step in the clearance of the site and a clear demonstration of the progress being made."
DMTR was constructed to test the effects of irradiation on metals. It was the first operational reactor to achieve criticality in Scotland in 1958.
Published 3 April 2017