News story
Robathan out and about in Belfast and North Down
Rt Hon Andrew Robathan MP, Minister of State at the Northern Ireland Office today undertook a round of visits in Belfast and North Down.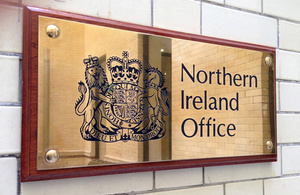 His first visit of the day was to Clonard Monastery, just off the Falls Road. He met Fr Michael Murtagh, Superior of the Monastery and local clergy and community representatives. They gave an overview of the work that Clonard undertakes within the community and described many key moments during the peace process when Clonard played an important role.
Later in the afternoon, Mr Robathan visited Rathgill Community Association in Bangor, County Down, where he had the opportunity to meet some local residents and young people who have benefitted from the work and projects in which the Rathgill Community Association is involved.
Speaking after his visits Andrew Robathan said:
I was delighted to have had the opportunity to meet representatives of Clonard Monastery and Rathgill Community Association earlier today and hear at first-hand about the excellent work they are involved in.
It is obvious that the work of the Rathgill Community Centre association is helping to address the issues affecting those living on the estate and is creating opportunities for young people that did not exist in the past.
His final event of the day was a short courtesy call on the Lord Mayor of Belfast, Councillor Máirtín Ó Muilleoir, at Belfast City Hall.
Published 18 March 2014