Press release
Road traffic survey for A417 near Elkstone in Gloucester
Highways England will be undertaking a roadside traffic survey on Wednesday 25th November on the A417 near Elkstone in Gloucestershire.
This news article was withdrawn on
This document is no longer current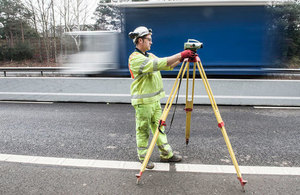 This survey was originally planned for 3rd November but was abandoned for safety reasons due to poor visibility.
The purpose of the survey is to look at traffic modelling in support of the A417 Missing Link – Air Balloon scheme announced by the government in the Autumn Statement 2014 for the Roads Investment Strategy (RIS).
This will be an opportunity to obtain feedback from the public who regularly use this road.
The survey work will take the form of roadside interviews with passing motorists between 7am and 7pm.
Please be advised that the date can be subject to change.
General enquiries
Members of the public should contact the Highways England customer contact centre on 0300 123 5000.
Media enquiries
Journalists should contact the Highways England press office on 0844 693 1448 and use the menu to speak to the most appropriate press officer.
Published 23 November 2015