Press release
Road marking changes at A38 Carkeel Roundabout
Highways England has listened to feedback from drivers and is altering road markings around Carkeel roundabout on the A38.
This news article was withdrawn on
This press release is no longer current.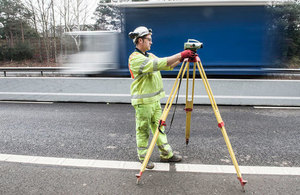 We recently completed £3.27 million of improvements on the roundabout, which is located approximately half a mile to the west of the Saltash Tunnel in Cornwall.
Highways England always aims to give customers the best possible driving experience on our roads and feedback from drivers indicated that slight alterations might help their journeys.
Alexis Field, team leader for Highways England in Devon and Cornwall said:
We take very seriously any concerns raised with us and while the road markings passed our safety checks, drivers told us that changes might help them navigate the roundabout.

This coupled with our wider review of the roundabout's operation lead us to decide to alter the markings.

Significant works such as this often require some fine tuning and we hope to have the alterations completed by the end of September.
On the southbound approach of the A388, Callington Road, traffic destined for Saltash will be directed to the right hand lane, and the road markings on the roundabout amended to guide drivers through.
On the westbound exit on to the A38, the markings will be altered to provide more guidance for merging traffic.
Work at Carkeel Roundabout included widening the westbound approach from two to three lanes and widening the westbound exit to allow for a two lane exit. A pedestrian footbridge on the A38 eastern arm was also installed.
In the long term, the improvements will increase traffic flows and reduce overall queue lengths at the roundabout and achieve wider benefits in supporting growth in the surrounding area, such as development at Carkeel and Saltash.
A planned second phase of works, being undertaken by Cornwall Council, either side of the roundabout will further improve the operation of this part of the road network.
General enquiries
Members of the public should contact the Highways England customer contact centre on 0300 123 5000.
Media enquiries
Journalists should contact the Highways England press office on 0844 693 1448 and use the menu to speak to the most appropriate press officer.
Published 14 September 2015