RNAS Culdrose to welcome Olympic Flame into UK
In addition to being close to the start point of the Torch Relay at Land's End, the arrival of the Flame at RNAS Culdrose acknowledges the vital…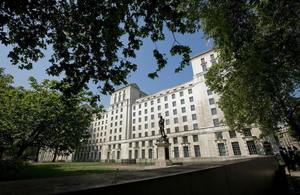 In addition to being close to the start point of the Torch Relay at Land's End, the arrival of the Flame at RNAS Culdrose acknowledges the vital contribution that maritime and coastal search and rescue services make to our island nation.
Commenting on the announcement, Defence Secretary Philip Hammond said:
I am delighted that Royal Naval Air Station Culdrose will be the first to welcome the Olympic Flame into the UK. It is a fantastic opportunity for the Armed Forces to be involved in such a unique event, and one they can take pride in for years to come.
British Airways will carry the Olympic Flame on board flight 'BA2012' - a gold-liveried aircraft - from Athens to the UK on 18 May 2012.
As the Olympic Flame is classified as a symbolic flame it is permitted to be carried on board an aircraft subject to special authorisation from the Civil Aviation Authority.
The Flame will travel in a ceremonial lantern that is secured in a specially designed cradle which is, in turn, firmly fixed to a seat on the plane using a secure holding device. The lantern is designed so that the Olympic Flame can burn safely for up to 30 hours.
The Chair of LOCOG, Sebastian Coe, said:
It gives me great pleasure to confirm 10 May as the Flame lighting date and RNAS Culdrose as the Olympic Flame's arrival point into the UK.
My team is looking forward to working with the Hellenic Olympic Committee, the Ministry of Defence and our commercial partners to create exciting events to mark the Flame's Greek provenance and its arrival to our shores.
Following its arrival at RNAS Culdrose the Flame will travel around the UK for 70 days on the Olympic Torch Relay from 19 May to 27 July 2012. The Olympic Flame will travel 8,000 miles (12,875km) across the UK to within 10 miles (16km) of 95 per cent of the population.
8,000 torchbearers will carry the Olympic Flame for approximately 300 metres each, passing it from torch to torch until it reaches the Olympic Stadium on 27 July 2012.
RNAS Culdrose, home to most of the Navy's Merlin and Sea King helicopter squadrons that are supporting operations around the world, also offers a beautiful Cornish setting in which an estimated 1,000 guests, media and members of the local community are expected to welcome the Olympic Flame.
Captain Willie Entwisle, Commanding Officer of Royal Naval Air Station Culdrose, said:
We are honoured that the Olympic Flame will arrive in the UK by landing at Royal Naval Air Station Culdrose.

Our personnel, many of whom are currently supporting the Royal Navy on operations across the globe, are very excited that the build-up to the London 2012 Olympic Games will start here. We are delighted to be playing such an important part in this once-in-a-lifetime event.
Published 1 February 2012