RN weather experts prepare for new carriers with US Navy
Two Royal Navy meteorologists are enjoying a taste of forecasting on board the US Navy supercarrier USS Harry S Truman.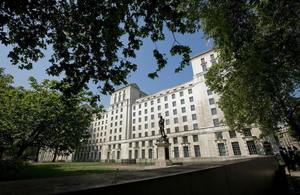 Lieutenant Anna Townsend and Leading Seaman Paul Allen, both based with the Royal Naval Hydrographic Unit at HM Naval Base Devonport in Plymouth, are working for three months on board the Nimitz Class aircraft carrier.
The duo are learning about the differences in forecasting on a ship five times the size of Britain's current carriers to pave the way for the Royal Navy's return to large-scale aircraft carrier operations, complete with specially designed jets, when the HMS Queen Elizabeth and Prince of Wales enter service.
Lt Townsend said:
This has been an excellent opportunity to see how the US Navy provides hydrographic and meteorological support to strike operations and will definitely assist me in the set-up and execution of operations on the Royal Navy's future carriers.
The 100,000-tonne ship is exercising off the eastern seaboard of the United States and undergoing training in the Atlantic. This is another piece of the huge jigsaw preparing the Royal Navy for the two largest ships it has built.
However, there are clear differences in the size of the ships, the technology used, and the use of meteorological information which is vital for operating aircraft from the flight deck. For example, the US Navy produces a main 72-hour forecast to a range of 50 nautical miles (93km) from the ship, whereas Royal Navy forecasts look at the next 12 hours to a distance of 100 miles (160km).
For any carrier operations wind is needed to blow over the deck in order to launch and recover aircraft - typically 20 to 30 knots (38-55km/h) aboard the USS Harry S Truman. For safe operations there must be a minimal crosswind and a ship's roll of no more than two degrees.
As part of her Royal Naval training, Lt Townsend has also received warfare instruction. This means she can not only provide forecasting for carrier missions, but also support mission planning which focuses on how an aircraft's sensors and weaponry will perform over a target area - all dependent on weather.
Her experience on board the USS Harry S Truman is giving Lt Townsend a very useful insight into her likely role aboard the HMS Queen Elizabeth and Prince of Wales.
And the US Navy's insight into the training given to Royal Navy hydrographers and meteorologists prompted them to inquire about receiving it themselves.
Lt Townsend has recently returned from the Gulf where she provided expert advice aboard HMS Daring and Diamond - which both worked with US carriers during their deployments in the region.
Leading Seaman Allen can call on almost 20 years' experience as a meteorological observer ashore and afloat. He was impressed by the size of the US ship.
He said:
Berthing and messing arrangements are on a large scale, but then you have to cater for 5,000 people.

At the end of the day you are here to do a job and that is to provide forecasting support to naval aviation and operations in every way you can.
The USS Harry S Truman is one of ten Nimitz Class supercarriers and is home to 5,500 sailors and air group personnel - supporting up to 90 aircraft and helicopters. The under-build Royal Navy Queen Elizabeth Class carriers will be two-thirds of the size with 1,600 personnel aboard and 40 or so F-35 jump jets and helicopters.
Living arrangements aboard the USS Harry S Truman are much the same though, with the enlisted sailors (known in the Royal Navy as ratings) in 30 to 100-man messes, while officers are in one to four-man cabins.
Published 9 November 2012