Press release
River Medway boaters and wildlife boosted by lock improvements
Boaters and wildlife along the River Medway are to receive a boost thanks to a project to refurbish East Farleigh lock.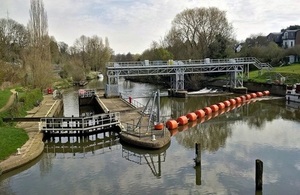 The Environment Agency is spending £3 million on the refurbishment of the navigation lock, near Maidstone in Kent, and installing a new fish and eel pass.
East Farleigh lock was last re-constructed over a century ago and, although safe, the main structure is showing signs of wear. The lock will be completely refurbished as part of a 6 month project that will also include the installation of a new fish pass.
Work to restore the lock begins on 12 September 2016, and when it is complete, 9 out of 10 lock sites along the River Medway will have fish passes around their weirs and locks.
The new fish pass at East Farleigh will allow coarse and migratory fish the ability to pass the lock and weir complex, allowing fish to reach new spawning grounds and contributing to the overall health of the river.
The Environment Agency is the navigation authority for the 31 kilometre stretch of the Upper Medway navigation in Kent, and there are 10 locks and associated sluices and weirs along the 31km long navigation. East Farleigh is the second lock boaters arrive at if visiting from the tidal Medway and heading upstream.
Over the last 8 years the Environment Agency has led projects to refurbish 3 of the poorest condition navigation locks; East Farleigh will be the fourth lock to receive this level of investment.
Philip Munslow, Environment Agency Waterways Operations Manager said:
It is a testament to the previous lock refurbishment that it has lasted over 100 years, especially in such a harsh environment.

The construction is made more complicated by the confined nature of East Farleigh lock. However, working with our suppliers we are pleased to be able to invest in this site and bring the lock up to modern standards. The completion of these works will secure this structure for the next 100 years. The new fish pass means that 9 out of 10 lock sites on the Upper Medway will have had their barriers to fish passage removed.
Published 13 September 2016