Rise in number of rogue firms shut down
Record numbers of unscrupulous or unauthorised claims management companies have been shut down by the Ministry of Justice in the last year.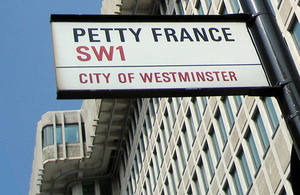 Nearly 350 firms were closed down last year in comparison to 35 the year before - a ten-fold increase.
This follows the Ministry of Justice's sweeping reforms to tackle concerns that a growing compensation culture is paralysing schools, businesses and community groups due to a fear of being sued.
The reforms included restructuring  'no win, no fee' deals to discourage needless and excessive litigation as well as reviewing the ways advertising is used by claims management companies to attract business.
Protecting consumers
Ministry of Justice's Claims Management Regulation Unit aims to protect against firms exploiting vulnerable consumers by over-selling expectations of compensation pay-outs.
This year they have focused on stamping out abuse in the new market of mis-sold payment protection insurance.
Kevin Rousell, who heads up the unit, said: 'We have made it very clear to businesses that we are not going to accept any malpractice or attempts to take advantage of vulnerable people.
'There will be no let up in the coming year. Companies should remain in no doubt that if they breach the rules they will be closed down.'
The 349 firms who had their licences taken away in 2010/11 were either found to be in breach of rules or failed to meet the regulator's requirements for authorisation.
In the worst cases, the reasons for action included evidence of fraud, misleading marketing and aggressive sales techniques.
During the year the regulation unit also targeted unsolicited e-marketing, in particular SMS text messages which some claims companies use to market their services.
Published 29 July 2011