Riots: Minister praises work to fast-track court cases
Djanogly praised staff across the justice system who are working around the clock to fast-track hearings of people charged over the riots.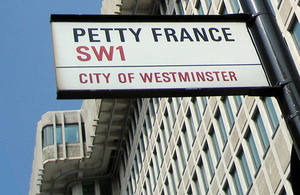 Speaking after meeting staff and magistrates at Horseferry Road Magistrates' Court in London, he said: 'I congratulate courts, prisons, probation, youth and emergency services for the difficult work they are doing.
'Today I met court staff and Judges who had worked 30 hours straight. I am very grateful for all their hard work and impressed at the cohesion and spirit between the teams who are working so closely together to deliver speedy results and would again like to extend my thanks to all those involved.'
 
The minister added: 'We will continue to provide all necessary support to the police to ensure anyone involved in this kind of criminal activity is brought to justice as swiftly as possible.
Plans are in place to ensure court time is available to deal with all cases as required. A number of prisons and courts are being kept open 24-hours to deal with people arrested and charged over these disturbances.'  
Virtual courts
Virtual courts, which allow people to give evidence via a videolink, are also being used at two court sites in London and the South East.
 
Mr Djanogly said: 'Virtual courts offer flexibility so courts can take cases from many different police sites.
 
'This allows us to deal with offenders more quickly as they give evidence or their plea from a police station, meaning those who are guilty can be sentenced within hours of being charged.'
'Swift justice'
In a statement to the House of Commons the Prime Minister David Cameron said some courts had been sitting through the night - and would do so 'for as long as necessary.'
'Magistrates' courts have proved effective in ensuring swift justice, he said. 'The Crown courts are now starting to deal with the most serious cases. 
'We are keeping under constant review whether the courts have the sentencing powers they need and we'll act if necessary.'
Published 12 August 2011