RFA Fort Rosalie visits Cuba
Royal Fleet Auxiliary (RFA) Fort Rosalie has made a rare visit to Cuba for a British ship to strengthen counter-narcotics collaboration work between UK and Cuban authorities.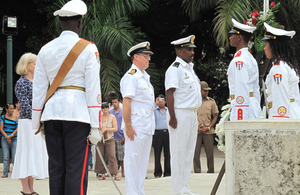 The visit to Havana coincided with Cuba's British culture week and the 250th anniversary of the Battle of Havana when British forces laid siege to Havana in June 1762 during the Seven Years' War with Spain, as it was an important colonial military base.
RFA Fort Rosalie was welcomed to the city with a Cuban navy band and guard of honour including senior naval officers. The ship's commanding officer, Captain Martin Gould, made several diplomatic calls, further strengthening Britain's bilateral engagement with Cuba.
Last year, a declaration was signed which included cooperation on counter-narcotics work, and is linked to a wider aim to boost UK political and commercial engagement in Latin America.
Cuba's minister of foreign affairs, local dignitaries, and the British ambassador and defence attache used Fort Rosalie as a location for business meetings. The ship hosted a productive meeting on board with the Cuban Ministry for Interior to discuss some of the details of counter-narcotics work.
The ship's company took time to lay a wreath at the Jose Marti Memorial in Havana, which honours a martyr of the revolution against Spanish control. RFA staff visited a cigar factory and historic buildings and, in exchange, more than 900 Cubans visited the ship.
As well as supporting counter-narcotics work as part of her Atlantic Patrol Task, Fort Rosalie has a remit to engage with diplomatic partners in the region.
Capt Gould, along with the British ambassador and defence attache, hosted a reception on board for the benefit of Cuban military staff, officials and various international defence attache staff.
Capt Gould said:
Our visit to Havana, coinciding with British Culture Week, has helped to cement relations between our two countries.
The counter-narcotics operations run by the international community in the Caribbean region are supported by Cuba's positive approach to the reduction of trafficking through their territorial waters; we hosted useful meetings on board to facilitate greater understanding of joint roles and capabilities.
Seeing Cuba, being given front-row prominence in the port, and making a large visual impact meant the visit was a roaring success. Our ship's company made outstanding efforts and engaged with the local population during official functions on board and ashore.
RFA Fort Rosalie served on NATO-led operations off Libya last year, providing fuel, stores and ammunition to Royal Navy vessels enforcing UN security resolutions.
Published 15 June 2012