RFA Argus joins bicentennial celebrations in USA
RFA Argus has sailed into the biggest naval base in the world to take part in events marking the last time Britain and the USA went to war.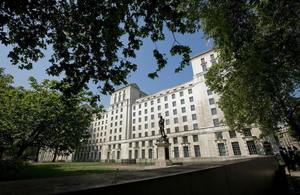 Entering Norfolk, Virginia, with a flash of flame from one of her two saluting guns, RFA Argus was one of scores of warships, sailing vessels and other craft which spent six days at the US naval base for a massive waterfront and seaborne festival to mark the bicentenary of the War of 1812.
An estimated 1.5 million people descended on the Hampton Roads and Chesapeake Bay area to watch festivities, which included parades of sail, and look around visiting vessels at the latest Op Sail 2012.
Personnel from Argus - who include not just her regular RFA and Royal Navy contingent, but also a Lynx flight from 815 Naval Air Squadron and a 30-strong disaster relief team drawn from MASF at Culdrose, ready for the Caribbean hurricane season - took part in festivities aboard the 28,000-tonne ship and ashore.
Events aboard included Diamond Jubilee celebrations (including a ceremonial sunset), while on land her Royal Navy contingent joined in a sunset parade which ended with a hugely-impressive 15-minute drill demonstration by the US Marine Corps at Norfolk's Town Point Park.
Not to be outdone, her RFA crew flew the flag for the Service's culinary branch: chefs Chief Petty Officer (Cook) Matt Rowberry and Leading Hand (Cook) Adam Syrett were the British competitors at an international cook-off.
Joined by local chef Tory Camacho from the Culinary Institute of Virginia, the trio were given a basket of the finest Virginian fare - plus the best British ingredients from the ship's pantry. Troy was particularly impressed by the invention shown by the RFA cooks "putting a British spin on locally-sought produce."
The result? A starter of steam sea bass, parsnip chips and white wine oyster and cream reduction; a main course of poached chicken breast stuffed with Scottish haggis, ham and potato hash, braised red cabbage and a black pudding faggot. And for dessert: pickled rhubarb and ginger on a shortbread base with oat crumble and creme anglaise and rhubarb jus.
One of the judges went so far as to declare Team Argus's offering "by far the best menu and presentation".
Unfortunately his fellow judges outvoted him - there was just half a point separating the top two in the five-ship cook off… and the chefs of Denmark's HDMS Esbern Snare edged the British team out.
We were robbed," said a despondent CPO Rowberry, from Ross-on-Wye. "We thought the clean plates were a good indication of our success. To have missed out on the final by half a point.
His shipmate LH Syrett, from Hastings, added:
I really enjoy the challenge of competitions and we stuck to the parameters set by the hosts. Unfortunately, the reindeer steaks [the Danish team] used were too good.
Festivities in Virginia were the second huge War of 1812 event involving Argus in a matter of days. Before sailing into Norfolk, the ship spent a week in the Big Apple for the 25th annual Fleet Week - another international naval celebration, which this year had an early-19th-Century twist.
The 1812 conflict continued until 1815, and is often hailed by the Americans as a victory, although a 'draw' would be a more accurate description. More importantly, the war's end laid the foundations for two centuries of ever-closer ties between London and Washington.
Away from things ceremonial, the ship has been training with the US Navy; two helicopters from HSC-2 squadron flew from Naval Station Norfolk to meet the ship off the Eastern Seaboard and conducted a series of landings - a precursor to further training with American helicopters later in Argus's deployment.
Once finished in the USA, RFA Argus, which serves as both an aviation training ship for helicopter crews, maintainers and handlers, and a floating medical centre thanks to its Primary Casualty Receiving Facility, will continue on into the Caribbean to be ready to provide aid to British citizens in the hurricane season.
Published 14 June 2012