Revival of competitive sport in school underway as part of London 2012 sports legacy
Secretary of State unveils plans to level the playing field for young disabled people.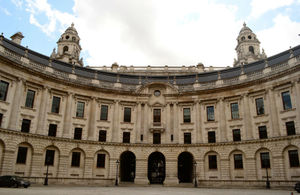 More than 1000 budding sports stars across Hertfordshire competed in their first School Games Festival today.  The event is part of a new and exciting opportunity to encourage young people to play more competitive sport in school and leave a lasting sporting legacy from London's Olympics.
The Hertfordshire Festival is one of nine pilot events taking place across the country this summer ahead of the launch of the new national School Games competition in September. The new competition will use the inspiration of 2012 to get more young people playing competitive sport, and will build up to a national final in the Olympic Stadium in May 2012. 
At the event Secretary of State for Culture, Olympics, Media and Sport Jeremy Hunt set out his plans to use the School Games to drive a step change in school sport for disabled children.  A new action plan has been put in place to boost disability sport in schools, which includes:
Measuring, for the first time, participation rates of young disabled children in competitive sport through the Taking Part survey in order to establish a baseline picture of exactly how many young disabled people are taking part in competitive sport.

Increasing the number of sports for disabled children - next year's School Games finals will also include sports specifically for young disabled athletes.

Providing more direct guidance and support for schools, teachers and coaches to deliver the highest standards in disability sport - 450 School Games Organisers will gain further training in how to develop and run the most effective sporting leagues, fixtures and events, ensuring they are accessible to young disabled people.

Identifying the top 50 trailblazing schools to pioneer new and innovative ways to develop further sporting opportunities for young disabled people.

From September there will be a new competition in 30 sports for schools to use that are inclusive for all young people. This will give schools the option for disabled and non-disabled pupils to participate alongside each other. For young people with high support needs or complex or multiple barriers we will develop pan-disability formats in disability specific sports and in mainstream sports.
Jeremy Hunt, Secretary of State for Culture, Olympics, Media and Sport, said:
The School Games will revive competitive sport in thousands of schools up and down the country, and will be a key part of the sporting legacy of the 2012 Olympic and Paralympic Games.  And we are going to level the playing field for young disabled athletes by giving them more opportunities to play sport.  I want to thank all the people in Hertfordshire and the Youth Sport Trust for making this pilot School Games festival such a success.
Health Secretary Andrew Lansley said:
Being active is vital for a healthy childhood and helps in the drive against obesity. Competitive school sport can also offer a wide range of other benefits like better self esteem, confidence and social skills.
With over 30 sports to choose from including Olympic and Paralympic sports, we hope the Games will encourage more children and young people to make sport and physical activity a regular part of their lives.
Maria Miller, Minister for Disabled People, said:
The School Games are designed to increase the number of sports for disabled people and showcase their talents.  But they will also help to challenge outdated perceptions of disabled people in competitive sport and act as a catalyst for our sporting talents of the future.
Baroness Sue Campbell, Chair of the Youth Sport Trust, the body delivering the School Games, said:
Competitive sport teaches young people a range of life skills - from confidence and self esteem to respect and friendship - all of which will support them as they continue to progress through school and on to future careers.  Improving sporting opportunities for young people with disabilities is a key focus for the Youth Sport Trust and the School Games is an excellent opportunity to give them much greater access to competitive sport.
The Secretary of State was joined today by former Olympic medallists Darren Campbell and Mark Richardson, former Parlalympian medallist Ade Adepitan and current Paralympian Helen Freeman at the competition.
Young people taking part in the School Games will have the chance to compete in a range of Olympic and Paralympic sports such as hockey, tennis, volleyball, swimming and boccia.  Competitions within schools will lead to town, country and ultimately national levels.
Schools can sign up to take part at the School Games website. 
The School Games is supported by a range of partners including the Department for Culture, Media and Sport, Sport England, Department of Health, Paralympics GB and the Youth Sport Trust.  More than £100 million of Lottery and Government funding is being injected into the School Games over the next three years.
Press Enquiries: 020 7211 2210
Out of hours telephone pager no: 07699 751153
Public Enquiries: 020 7211 6000
Published 17 June 2011