Press release
Revised plans for habitat creation on Exe estuary
The Exe Estuary Flood and Coastal Risk Management Strategy identified the need for intertidal habitat to be created to offset that being lost as a result of the foreshore being 'squeezed' due to predicted sea level rise.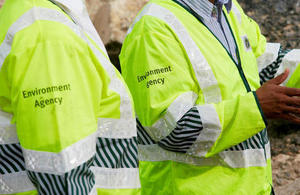 There is a legal requirement for the Environment Agency to do this for internationally important habitats like those in the Exe estuary.
Following a review of all feasible sites in 2013, two preferred sites – the west bank of the River Clyst and the Kenn Valley – were selected for more detailed investigation.
These investigations are now complete and show that the Clyst site will not provide the habitat suitable to meet the legal requirement, and the Environment Agency will no longer progress the work here.
The Agency still plans to carry out work in the Kenn Valley, and will seek other sites for future intertidal habitat creation.
Mike Williams, for the Environment Agency, said
In the short term, we intend to deliver the required compensatory habitat in the lower Kenn Valley. This will be the best site for creating the intertidal habitat required. However, our long term aspiration for the Clyst remains to reconnect the river to the floodplain, as this will be the most sustainable way to manage flood risk in the future.
We are also planning improvements to flood defences at Clyst St Mary to reduce the flood risk to this community and alterations to embankments could form part of this project if landowners agree.
Notes to Editor:
The Environment Agency is legally required to compensate for environmentally designated habitats lost through man-made activities.
Published 25 November 2014