Press release
Review of waste policy announced
The Government is to carry out a full review of waste policy in England, looking at the most effective ways of reducing waste.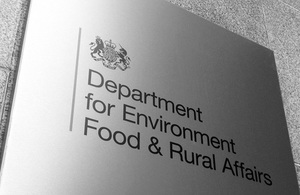 The Government is to carry out a full review of waste policy in England, looking at the most effective ways of reducing waste, maximising the money to be made from waste and recycling, and how waste policies affect local communities and individual households. 
Announcing the review at the Futuresource conference today, Environment Secretary Caroline Spelman said:
"There is an economic and environmental urgency to developing the right waste strategy.
"We have been slowly moving in the right direction with recycling rates. The direction of travel is right - it's the pace that's the problem. We need to go faster and we need to go further."
The review will include:
the effect of waste policies on local communities and individual households, and how local authorities can best work with people to make the best decisions;
maximising the contribution of the waste and recycling industries to the UK economically and environmentally;
how we work towards the "zero waste economy", and drastically reduce the amount of waste created and valuable resources sent to landfill, looking at the entire process from source to end of life; and
new approaches to dealing with commercial waste and promoting 'responsibility deals', reducing the amount of waste generated by production and retail.
Caroline Spelman continued:
"We need a new approach to waste - one which works for the new economy. We cannot keep putting recyclable and biodegradable material into landfill. It threatens the environment and wastes what are incredibly valuable natural resources.
"We have an unprecedented opportunity to create the green jobs, green growth, and take our share of the green jobs of the future."
Notes
The terms of reference for the review will be published in the next few weeks. To be alerted when the terms of reference are published please email: waste.review@defra.gsi.gov.uk
The coalition agreement committed the Government to "work towards a zero waste economy and encourage councils to pay people to recycle and work to reduce littering", and "measures to promote a huge increase in energy from waste through anaerobic digestion."
Biodegradable material decomposing in landfill generates 40% of the UK's methane emissions, and 3% of all the UK's greenhouse gas emissions.
The value of recycled newspapers this month were up to £85 per tonne; plastic bottles £252 per tonne; and aluminium £843 per tonne.
If you recycle an aluminium can, you use 20 times less energy than if you created a new one.
In 2008-09, 27.3 million tonnes of municipal waste was collected by local authorities: 50.3% was sent to landfill; 36.9% was recycled or composted; 12.2% was incinerated for energy recovery.
Published 15 June 2010