News story
Review of the Skills Funding Agency launches
The Government has committed to undertake a regular evaluation of its key delivery bodies, and to radically increase the transparency and accountability…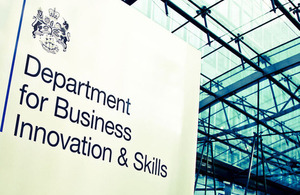 The Government has committed to undertake a regular evaluation of its key delivery bodies, and to radically increase the transparency and accountability of all public services. This review will be run in line with the Cabinet Office's Public Bodies Review Programme.
The outcome of the review will be announced in due course.
**Notes to editors: **
The Skills Funding Agency is a partner of the Department for Business, Innovation & Skills (BIS). Its role is to fund adult further education and skills training in England. www.skillsfundingagency.bis.gov.uk.
BIS's online newsroom contains the latest press notices, speeches, as well as video and images for download. It also features an up to date list of BIS press office contacts. See [http://www.bis.gov.uk/newsroom](http://www.bis.gov.uk/newsroom) for more information.
Notes to Editors
Contact Information
Name BIS Press Office Job Title
Division COI Phone
Fax
Mobile
Email NDS.BIS@coi.gsi.gov.uk
Name Katie Kilgallen Job Title
Division Department for Business, Innovation & Skills Phone 020 7215 1861 Fax
Mobile
Published 1 November 2011